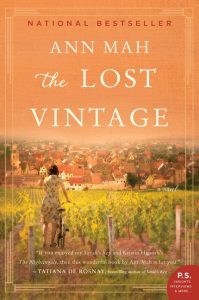 About The Lost Vintage
• Paperback:
400 pages
• Publisher:
William Morrow Paperbacks; Reprint edition (August 6, 2019)
"If you enjoyed Sarah's Key and Kristin Hannah's The Nightingale, then this wonderful book by Ann Mah is for you." -- Tatiana de Rosnay
Sweetbitter
meets
The Nightingale
in this page-turning novel about a woman who returns to her family's ancestral vineyard in Burgundy and unexpectedly uncovers a lost diary, an unknown relative, and a secret her family has been keeping since World War II. To become one of only a few hundred certified wine experts in the world, Kate must pass the notoriously difficult Master of Wine examination. She's failed twice before; her third attempt will be her last chance. Suddenly finding herself without a job and with the test a few months away, she travels to Burgundy to spend the fall at the vineyard estate that has belonged to her family for generations. There she can bolster her shaky knowledge of Burgundian vintages and reconnect with her cousin Nico and his wife, Heather, who now oversee day-to-day management of the grapes. The one person Kate hopes to avoid is Jean-Luc, a talented young winemaker and her first love. At the vineyard house, Kate is eager to help her cousin clean out the enormous basement that is filled with generations of discarded and forgotten belongings. Deep inside the cellar, behind a large armoire, she discovers a hidden room containing a cot, some Resistance pamphlets, and an enormous cache of valuable wine. Piqued by the secret space, Kate begins to dig into her family's history—a search that takes her back to the dark days of World War II and introduces her to a relative she never knew existed, a great–half aunt who was a teenager during the Nazi occupation. As she learns more about her family, the line between resistance and collaboration blurs, driving Kate to find the answers to two crucial questions: Who, exactly, did her family aid during the difficult years of the war? And what happened to six valuable bottles of wine that seem to be missing from the cellar's collection?
My Thoughts:
I feel like my family let me down! Not one single relative has a cellar (or even an attic) crammed full of generations of stuff. There are no hidden rooms or trunks full of clues or anything like that. Though I guess reading about someone exploring a cellar full of clues and discovering family mysteries is really the next best thing! This was an interesting read that I really thoroughly enjoyed. Kate isn't the warm and fuzziest of characters and she made some choices that were a bit frustrating but she never slipped into a character I couldn't relate to. The history was fascinating. I had read one of the books that she mentioned reading for reference and had enjoyed that one very much. It was really interesting to see the nonfiction really brought to life. I'm looking forward to reading more from this author and would recommend it to anyone who enjoys historical fiction and dual timelines. Rating: Very Good

Purchase Links
]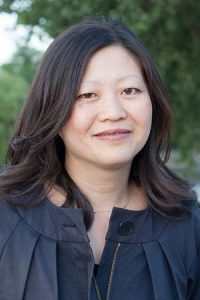 About Ann Mah
Ann Mah is a food and travel writer based in Paris and Washington DC. She is the author of the food memoir
Mastering the Art of French Eating,
and a novel,
Kitchen Chinese
. She regularly contributes to the
New York Times
' Travel section and she has written for
Condé Nast Traveler,
Vogue.com, BonAppetit.com,
Washingtonian
magazine, and other media outlets. Find out more about Ann at her
website
, and connect with her on
Facebook
,
Instagram
,
Twitter
, and
Pinterest
.