About The Oysterville Sewing Circle
• Hardcover:
384 pages
• Publisher:
William Morrow; First Edition edition (August 13, 2019)
"Stitched together with love, this is a story just waiting for your favorite reading chair. With her signature style and skill, Susan Wiggs delivers an intricate patchwork of old wounds and new beginnings, romance and the healing power of friendship, wrapped in a lovely little community that's hiding a few secrets of its own." — Lisa Wingate, New York Times Bestselling author of Before We Were Yours
The #1
New York Times
bestselling author brings us her most ambitious and provocative work yet—a searing and timely novel that explores the most volatile issue of our time—domestic violence. At the break of dawn, Caroline Shelby rolls into Oysterville, Washington, a tiny hamlet at the edge of the raging Pacific. She's come home. Home to a place she thought she'd left forever, home of her heart and memories, but not her future. Ten years ago, Caroline launched a career in the glamorous fashion world of Manhattan. But her success in New York imploded on a wave of scandal and tragedy, forcing her to flee to the only safe place she knows. And in the backseat of Caroline's car are two children who were orphaned in a single chilling moment—five-year-old Addie and six-year-old Flick. She's now their legal guardian—a role she's not sure she's ready for. But the Oysterville she left behind has changed. Her siblings have their own complicated lives and her aging parents are hoping to pass on their thriving seafood restaurant to the next generation. And there's Will Jensen, a decorated Navy SEAL who's also returned home after being wounded overseas. Will and Caroline were forever friends as children, with the promise of something more . . . until he fell in love with Sierra, Caroline's best friend and the most beautiful girl in town. With her modeling jobs drying up, Sierra, too, is on the cusp of reinventing herself. Caroline returns to her favorite place: the sewing shop owned by Mrs. Lindy Bloom, the woman who inspired her and taught her to sew. There she discovers that even in an idyllic beach town, there are women living with the deepest of secrets. Thus begins the Oysterville Sewing Circle—where women can join forces to support each other through the troubles they keep hidden. Yet just as Caroline regains her creativity and fighting spirit, and the children begin to heal from their loss, an unexpected challenge tests her courage and her heart. This time, though, Caroline is not going to run away. She's going to stand and fight for everything—and everyone—she loves.
My Thoughts:
I've really enjoyed Susan Wiggs' book in the past. Her style is page turning and pulls you in without feeling to rushed or contrived. On the surface this book falls into one of my favorite tropes - Main Character Whose Life Has Exploded - so I was really looking forward to reading this one. And I did enjoy it. I liked Caroline and I loved her family. I really enjoyed Flick and Addie. They're good sweet kids but they've suffered a terrible loss and have just had their worlds upended and I really felt like that was portrayed fairly realistically. I was pulled in and Wiggs' usual magic really made the world in the book come alive for me. However, in a true case of it's not you it's me, I can't say I loved it. It was darker than expected and while it wasn't exactly "ripped from the headlines" it definitely dealt with a lot of issues that are front and center. She handled the portrayal of the issues well and it didn't feel forced but if you're stressed and in the mood for a relaxing escape this may not be the best book for you at the moment. So even though this read didn't exactly suit my mood it was well done and engaging, dramatic without falling into melodrama and really proves that Wiggs' place on my auto buy is very well deserved. I'm very much looking forward to reading more from her.
Rating: Good

Purchase Links
]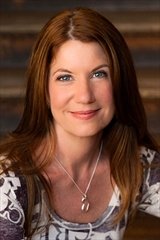 Photo by Yvonne Wong[/caption]
About Susan Wiggs
Susan Wiggs's life is all about family, friends…and fiction. She lives at the water's edge on an island in Puget Sound, and in good weather, she commutes to her writers' group in a 21-foot motorboat. She's been featured in the national media, including NPR, PRI, and
USA Today
, has given programs for the US Embassies in Buenos Aires and Montevideo, and is a popular speaker locally, nationally, internationally, and on the high seas. From the very start, her writings have illuminated the everyday dramas of ordinary people facing extraordinary circumstances. Her books celebrate the power of love, the timeless bonds of family and the fascinating nuances of human nature. Today, she is an international best-selling, award-winning author, with millions of copies of her books in print in numerous countries and languages. According to
Publishers Weekly
, Wiggs writes with "refreshingly honest emotion," and the
Salem Statesman Journal
adds that she is "one of our best observers of stories of the heart [who] knows how to capture emotion on virtually every page of every book."
Booklist
characterizes her books as "real and true and unforgettable." Her novels have appeared in the #1 spot on the
New York Times
Bestseller List, and have captured readers' hearts around the globe with translations into more than 20 languages and 30 countries. She is a three-time winner of the RITA Award,. Her recent novel,
The Apple Orchard
, is currently being made into a film, and The Lakeshore Chronicles has been optioned for adaptation into a series. The author is a former teacher, a Harvard graduate, an avid hiker, an amateur photographer, a good skier and terrible golfer, yet her favorite form of exercise is curling up with a good book. She lives on an island in Puget Sound, where she divides her time between sleeping and waking. Visit her website at
www.SusanWiggs.com
, and connect with Susan on
Facebook
,
Twitter
, and
Instagram
.