So often I find myself saying the same thing when it comes to books - "Oh I've been meaning to read that!" or "I really want to read that but just haven't yet." That list or books that I really
mean
to read is so ridiculously long that it some times feels more than a little overwhelming. So of course the answer is to put some of them in a list! Lists really fix most everything. I figure I'll focus on these 10 for now so I at least feel like I'm making progress!
1.
I Found You by Lisa Jewell
- Really I want to read just about anything by Lisa Jewell but this one sounds especially good! I love dual time lines and lots of mystery.
2.
Until It Fades by K.A. Tucker
- I've been hearing raves about Tucker's books years and somehow still haven't managed to pick one up.
3.
Written in Blood by Anne Bishop
- I've heard fantastic reviews on this series since I started blogging and while it's a little outside my reading comfort zone it definitely has caught my attention.
4.
A Man Called Ove by Fredrik Backman -
This book has been everywhere for ages and it sounds like a book I would love.
5.
Burn For Me by Ilona Andrews
- Andrews is one of those can do no wrong authors and while it's another one outside of my usual reading it's definitely one I want to try!
6.
Liar, Temptress, Soldier, Spy: Four Women Undercover in the Civil War by Karen Abbott
- I haven't really seen anyone mention this one for a bit but for awhile it was everywhere and I really wanted to read it. Just the other day I saw it at the library and if my bag wasn't already full there was no way I could have resisted!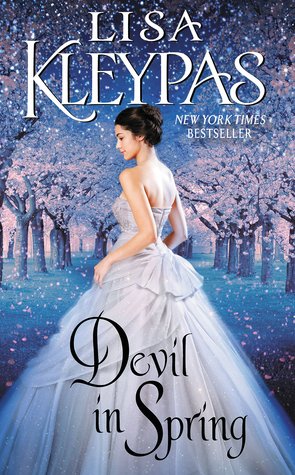 7.
Devil in Spring by Lisa Kleypas
- Devil in Winter is quite possibly one of my absolute favorite romance novels so why haven't I read this sequel featuring their son that came out months ago?? No idea!
8.
A School for Unusual Girls by Kathleen Baldwin
- When I first heard of that one I thought what a great concept! I should really read it. And then somehow the third book was just released and I still haven't read it.
9.
Beach House for Rent by Mary Alice Monroe
- Every summer a new Beach House book comes out with a gorgeous summer-y cover and a plot that sounds wonderful. Then the glowing reviews start showing up!
10.
The Raven Boys by Maggie Stiefvater
- Another one that it a little outside my comfort zone and another one that I've heard nothing but raves for. I'm really looking forward to this series!
What books have you been meaning to read but haven't managed to get around to yet?