It's Sunday so once again I'm linking up with
The Caffeinated Book Reviewer
for the Sunday Post where we talk about everything that's going on.
What I Got:
NetGalley:
Nothing, zero, nada, not a single book! I've got a few requests kicking around but didn't make any new requests and nothing got approved this week.
Other: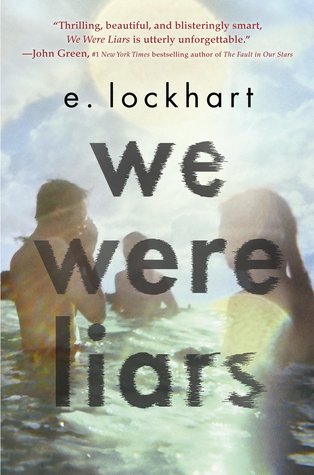 I got 2 books this week from the library and am excited about both!
First up is We Were Liars by E. Lockhart. I've been on the waiting list for this one for ages and was thrilled when it was finally my turn. I've seen glowing and flaming reviews on this one so I'm excited to see what the fuss is all about.
Second, is River Road by Jayne Ann Krentz. It's been years and years since I've read any Krentz but I was intrigued by this one when I saw some reviews and excerpts. I couldn't pass it up when I saw it on the recommended shelf while I was killing time during story hour.
Outside the Blog:
I've had the cold that would not die for a week now and it's starting to drive me crazy. Mostly my throat hurts to talk so I've resorted to charades to communicate. This is not a good time to have a sarcastic family! The Tornado has the same cold and is proving once again to be the worst sick person I've come across. He refuses to admit that he's sick so he goes at his usual pace but ramped up in a desperate attempt to prove he's fine and then falls apart when he runs out of energy. Sick days at home with a cranky 4 year old are not restful!
On Tuesday I thought we were better and my husband and I went to Atlanta with Paul and the Tornado to go to the Lego Discoveryland and eat at the Varsity. The Lego place is lots of fun but more geared from preschool ages to mid elementary. We did have fun as the picture shows and the Varsity onion rings and fried pies were delicious as always!
In gardening news my mint has died. I don't get it. Mint is pretty hardy and I've used the same pot year after year with great results but for some reason this year it's looked sad and finally died. All the rain we've had has resulted in split tomatoes which make me sad but they're still edible. I have a bunch of cucumbers that are ready to be picked (or aren't depending on if they're Armenian.)
School is starting in a couple of weeks here! Eleanor will be going back for her 2nd year at college, Emma is starting 12th and Paul will be in 11th. I'm just thrilled that my driving them to school days are over! We've decided to enroll the Tornado in 5 days a week preK because it's curriculum based and I'm afraid he'd be bored in the few day a week 4 year old class which is essentially the same as the 3 year old class. I have mixed feelings about him being gone 5 days a week but it's only half days so I'm sure once we're in the middle of it it will be nice.

I got an Amazon gift card as a thank you gift and I'm excited but there's so many books I want that I don't even know where to start! Do you experience gift card lock up or is it just me?
This Week on the Blog:
Monday: A feature on The Bone Room and it's author James Vitarius
Tuesday: A Top Ten Tuesday on which authors I own the most books by (#1 is going to be shocking!)
Friday: the usual Friday linkups for whatever book I'm reading
3 Book reviews
COYER Read-a-thon Wrap-up Post
Ipsy Glambag July Review
Have a great week and happy reading!