Happy Friday! Today I'm linking up with the Book Blogger Hop hosted by
a Coffee Addicted Writer
, Friday 56 hosted by
Freda's Voice
, and Book Beginnings on Fridays hosted by
Rose City Reader
.
Today's Blog Hop question is:
Do covers pull you in?
Answer:
Most definitely! I'm much more likely to pull a book off the shelf that has a cover that appeals to me. A good cover isn't 100% guarantee that I'll end up with the book but it's pretty close.
Today's book is Absolutely, Positively by Heather Webber. This is the 3rd in the Lucy Valentine series about a woman who can find lost objects and specializes in finding lost loves using this ability which so far has led to finding 2 mysteries and occasionally a body. I've really enjoyed the first 2 and after a string of books I felt like I was trudging through I really wanted something light and fun.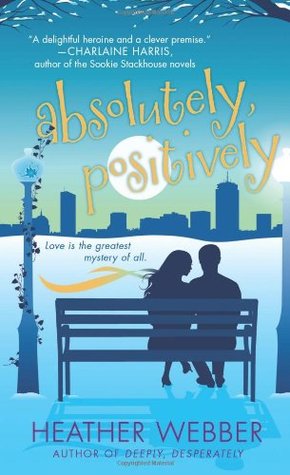 The Beginning:
"Suzannah Ruggieri blew into Valentine, Inc., like a category five hurricane. The antique mahogany door slammed into its stopper, rattling the beveled glass panes. Her eyes were wild, her hair disheveled , her round high cheekbones flaming. Winded, she huffed, "Hurry! The Lone Ranger's back!"
From page 56 of my copy:
"Open-faced cabinets held hundreds of tubes of color, dozens of paintbrushes, and canvases of every size imaginable. "Your graddad was still working?"
"He'd just finished a project when he went missing."
I haven't read much of this one yet but this has been a series I've really enjoyed. It's got a paranormal cozy vibe with the added bonus of looking for things that are missing versus just murderers.
So would you keep reading? Are you a sucker for a good cover like me?