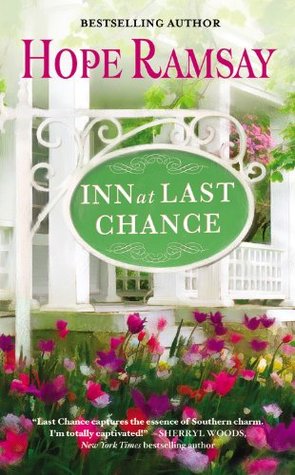 Inn at Last Chance by Hope Ramsay
Rating: 3 Stars
Source: NetGalley
Description:
Jenny Carpenter is thrilled to be on the last leg of getting her bed and breakfast The Jonquil House open. She is less than thrilled when a guest arrives ahead of the furniture. Even more difficult is that this isn't just any guest. It's Gabriel Raintree. Best selling novelist who spent his childhood at The Jonquil House. To make matters worse Gabe isn't the only guest. It seems The Jonquil House also has a ghost and the ghost is far from happy.

Genre: Suspense/Romance
Why I Picked This Book:
Abandoned house being turned into a Bed and Breakfast with a ghost thrown in. I couldn't pass it up.
My Impression:
Pros:
I liked Jenny. She's a bit of a worrier, she's a reader and she's just plain nice. When things don't look like they're working you sympathize with her. The setting is nice and the ghost is very well done. I was expecting a woman in white kind of spirit but instead got something that was almost demonic. It was definitely creepy and Ramsay did a great job of making the atmosphere seem dark, creepy and tense for the first half of the book especially. The ending was nice and these are characters that do seem like an HEA is possible. There was a later surprise and I thought Jenny's reaction felt natural and realistic.
Cons: While I liked the creepy atmosphere it did feel like I was unprepared. Given the cover I was expecting a nice romance with a nice ghost and the heavy creepiness felt completely out of left field. It definitely took me awhile to adjust to the ominous atmosphere. I didn't understand why Gabe was so secretive some issues that didn't seem to be that big of a deal. Jenny while extremely likable spent a lot of time feeling guilty and not comfortable in her own skin. While some of this is okay this carried through the majority of the book. I didn't like how 2nd best she felt to everything around her. There was an atmosphere about "catching a man" that felt a bit dated as well. About 80% in there's another surprise twist that comes completely out of nowhere.
Overall: While I wouldn't consider this a Christian romance the setting is a very church based community so there is quite a bit of talk about gong to church or what would the minister/altar guild president/other church members think. If you want a hot steamy romance this is definitely not the book for you. While I did enjoy it I found it somewhat disjointed with the dark ghost elements and the romantic parts. The flaws also balanced out a lot of the positives for me.
Would I Read More of this Series/Author?:
I liked Ramsay's writing style and she did create several extremely likable realistic characters so I'd definitely give her another try.
Would I Recommend this Book?:
Unfortunately, probably not.