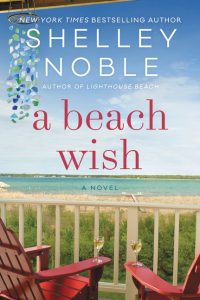 About A Beach Wish
• Paperback:
384 pages
• Publisher:
William Morrow Paperbacks (June 25, 2019)
New York Times bestselling author Shelley Noble returns to the beach in her latest summer read about the family we create and the wishes we make that can shape us.
Zoe Bascombe has never said no to her family. When she blew her Juilliard audition, she caved to their wishes and went to business school. But when her mother dies and leaves instructions for Zoe to spread her ashes at a place called Wind Chime Beach, she defies her brothers and starts out for a New England town none of them has ever heard of and discovers a side of her garden club mother that her wildest dreams hadn't imagined. Zoe has another family. Her first instinct is to run home. Instead she is caught in the middle of her feuding new relatives. With one family fighting among themselves and the other not speaking to her, Zoe must somehow find a way to bridge her new life with her old. For the first time in her life, Zoe must make a stand for her family—both of them. If only she can only figure out how. Her answer lies at Wind Chime Beach where for generations people have come to add their chimes to the ones already left among the trees. And when the wind blows and the air fills with music, their secrets, dreams, and hopes are sent into the world. There's a message for Zoe here—if she has the courage to open her heart.
My Thoughts: I'm fairly new to Shelley Noble's books but I've been enjoying catching up and this latest one was probably my favorite one yet. I really liked Zoe. She wasn't perfect and sometimes her choices puzzled me but I really enjoyed watching her discover the puzzle her mother left her all while discovering what makes her happy. I won't lie - this plot definitely falls under my favorite things category - and this book definitely didn't disappoint! I've had a busy few weeks and this was a nice soothing brain vacation. It was easy to get into the story and easy to connect with the characters and a fun setting that was perfectly beachy and quirky. This is a great summer read and cements Noble as one of my go-to authors for an enjoyable contemporary fiction read with great characters.
Rating: Very Good (4 Stars)

Purchase Links
About Shelley Noble
Shelley Noble is the
New York Times
and
USA Today
bestselling author of
Whisper Beach
and
Beach Colors
. Other titles include
Stargazey Point
,
Breakwater Bay
, and
Forever Beach
—a story of foster adoption in New Jersey—and four spin-off novellas. A former professional dancer and choreographer, she lives on the Jersey shore and loves to discover new beaches and indulge her passion for lighthouses and vintage carousels. Shelley is a member of Sisters in Crime, Mystery Writers of America, and Women's Fiction Writers Association. Find out more about Shelley at her
website
, and connect with her on
Facebook
and
Twitter
.