From agathachristie.com
It's no secret that I'm a big Agatha Christie fan. I can't remember when I first start reading her books but I'm thinking I was probably 11 or 12 and was making the switch between children's books and adult books (YA wasn't nearly as popular or easy to find at the time) and while scouring my grandmother's bookshelves I came across her collection of Agatha Christies. And I read them and then I reread them and now 20+ years later I'm STILL rereading them They're comfortable, wonderfully detailed and for the most part just brilliant. I've noticed when I post something about one of Agatha's books I frequently get a question about where to start. With 85 books and some with multiple titles it can be a little confusing and intimidating. So I thought I'd put together a kind of guide of my thoughts on Agatha's books.
So Where Should You Start?
My personal recommendations of books to start with are: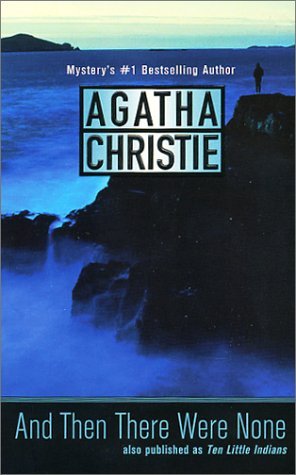 And Then There Were None/Ten Little Indians
- A stand alone book published in 1939 and is without a doubt one of her best known books. The details and the twists and turns are remarkable and I pick up something new every time I read it. However, it's very different from the rest of Agatha's books and is far more action oriented than you usually see from her.
The Secret Adversary - Published in 1922 which was very early in her career, this is the first book in the lesser known Tommy and Tuppence series. This is very much a fun romp of a book with lots of adventure, several kidnappings and a good dash of romance. This really isn't her best written book but it is a lot of fun.
Sleeping Murder - This book was actually published in 1976 and was her last book to be published but was written during World War 2 and put away for her daughter. This is without a doubt my favorite Marple and one of my favorite Agatha books overall. It does rely heavily on coincidence but I love mysteries that dip into the past and this does a wonderful job.
The Body in the Library - Another Miss Marple. This one was published in 1942 with a delightfully stereotypical title. We see a good bit of St. Mary Mead and I love Col and Mrs. Bantry. The mystery is wonderfully complicated and Miss Marple is completely in her element.
Death on the Nile - This is a Poirot from 1937. Poirot is a little difficult to recommend because while he is Agatha's most famous detective he can be a little challenging to get to know. I love this shipboard murder mystery and while I do miss Captain Hastings Poirot and his little grey cells are really in his element.
Murder on the Orient Express - Another Poirot and another of her better know books. This is another one without Captain Hastings (who really is a wonderful character) but the details in this are amazing and her take on justice is interesting.
Any of her short stories - Agatha is the master of the short story and has a number of volumes. There are some that are just Poirot (Poirot Investigates) or Marple (The Tuesday Club Murders), several mixed collections (The Golden Ball and other Stories), some include some of her most famous stories (Witness for the Prosecution, Three Blind Mice), and some feature her lesser known but still wonderful detectives (Mr. Parker Pyne Investigates and The Harlquin Tea Set). All are worth reading and are a great way to get a taste of Agatha's writing style without the commitment of a full length book.
What Should You Avoid?
Postern of Fate - This is the last book that Agatha wrote and the final book in the Tommy and Tuppence series. If I had to describe it in one word that word would be - confusing.

Curtain - This isn't actually a book you should avoid but more a book you should hold off on until you've read the rest of the Poirot books. While for the most part the books are only a series because they have the same detective Curtain is definitely the final Poirot book.


Nonfiction:
Come, Tell Me How You Live - This is a nonfiction book where Agatha talks about her life with her 2nd husband Max Mallowan who was a renowned archaeologist. Her stories are absolutely fascinating and it's so different from anything else she's done that it's definitely worth reading.
An Autobiography - While she completely ignores some major events in her life such as her 1926 disappearance she does provide lots of insight into her childhood and how she began writing.
The Complete Christie: An Agatha Christie Encyclopedia by Matthew Bunson - If you start reading a lot of Agatha's books this reference book is so useful. You can look up characters by name to see all the books that the character is featured in and discusses all the books by all the titles they were published under which makes it useful for collecting.
Hopefully I'll go back and add more nonfiction books as I read more but these are the ones I can completely recommend.
My Reviews:
This is what there is so far - I will be adding more as I review more.
So those are my thoughts on Agatha Christie's books in a (very big)nutshell. I'd love to hear your thoughts and favorites!