Today's Top Ten Tuesday topic from
The Broke and The Bookish
is The Top Ten Books Recently Added to My TBR. These are the latest ten that landed on my TBR due to blogger recommendations!
1. A Tangled Thread: A Family Mystery Set in England and Scotland by Anthea Fraser - It's a family mystery! I can't resist a family mystery with lots of secrets!
2. Carry On by Rainbow Rowell - Last year I really neglected some authors whose books I enjoyed and this year I'd like to fix that and Rowell is high on the list.
3. The Tiare on the Terrace by Kristen Kittscher - This is a Middle Grade adventure/mystery novel which I never can resist. Middle Grade is a genre that got sadly neglected in 2015 and I'm hoping to fix that!
4. To Scotland with Love by Patience Griffin - It's a quilt shop in Scotland! I'm not sure why I'm just stumbling on this series.
5. Rain Dogs: A Detective Sean Duffy Novel by Adrian McKinty - I hadn't heard of this police procedural before I stumbled on a review of this book but it sounds like something I'd enjoy.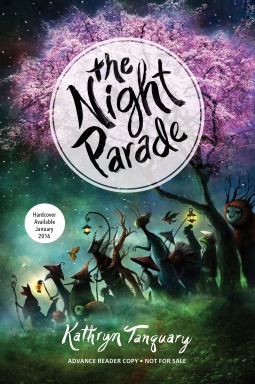 6. The Night Parade by Kathryn Tanquary - Did I mention I've been neglecting Middle Grade? This is another one I'm really looking forward to reading. Plus with the Japanese setting and supernatural elements it sounds a bit outside my usual reading and I wanting to stretch my comfort zone a bit this year.
7. How to Seduce a Scot by Maya Banks - I sadly neglected Historical Romance last year as well and this is a new book by a new-to-me author and I can't wait to give it a try!
8. A Study in Charlotte by Brittany Cavallaro - I love the Sherlock Holmes spin offs and this one about Sherlock Holmes' great-granddaughter and Watson's great-granddaughter sounds wonderful.
9. To Brew or Not to Brew by Joyce Tremel - A cozy mystery about a brewery? Cannot resist!
10. Along the Infinite Sea by Beatriz Williams - This author has been on my radar for quite awhile but this was the book that finally landed on my TBR.
What books have you just added to your TBR?