It's Friday linkup time! I'm linking up with the Book Blogger Hop hosted by
Coffee Addicted Writer
, Book Beginnings of Fridays hosted by
Rose City Reader
, and the Friday 56 hosted by
Freda's Voice
.
This Week's Book Blogger Hop Question:
Can you pass by a bookstore without stopping in?
My Answer:
Actually yes! I'm not a huge book buyer and then kind of lock up when I'm in a bookstore because I have so many books to read I feel guilty. The library is a whole other story though and I can do serious damage in a used bookstore.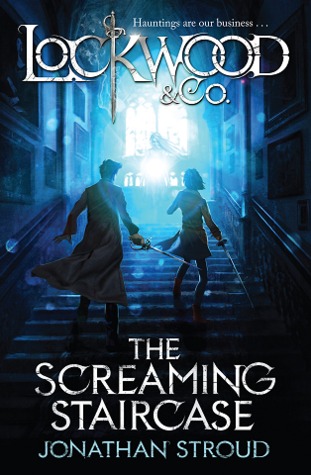 This week's book is
Lockwood& Co: The Screaming Staircase by Jonathan Stroud
. This has been on my radar for awhile as I love Middle Grade mystery/adventure series and this one looks really interesting. The final push for me to actually pick this one up is that this week my favorite podcast,
Super Serials
, talked about this one and I thought it would be the perfect time to pull this one off the TBR!
The Beginning:
Of the first few hauntings I investigated with Lockwood & Co. I intend to say little, in part to protect the identity of the victims, in part because of the gruesome nature of the incidents, but mainly because, in a variety of ingenious ways, we succeeded in messing them all up.
My Thoughts:
I like the sound of the narrator in this first sentence. There's a little bit of humor and it definitely sets the stage for a pretty dramatic story!
The 56:
But it was a decade or so later that a bloody series of cases, such as the Highgate Terror and the Mud Lane Phantom, attracted serious attention.
My Thoughts:
I'm seriously intrigued. I like the sound of all these cases with lots of drama and mayhem!
So what do you think? Keep reading?