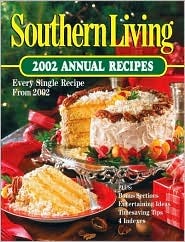 My Dad is incredibly challenging to buy gifts for. He's a pretty low maintenance guy and doesn't really care for things like gloves or scarves. He has hobbies but other than golf it's mostly just fixing things around the house or working in the yard or doing pool related maintenance so there's not much gift giving ideas there. So a few years ago around his birthday I was fussing at him about difficult he was to buy gifts for and he said "Just make me cookies."
And from that our kind of Cookie of the Month club was born. I love it because I get to try out new recipes and he gets cookies so we're both happy. My family is much more of a chocolate chip cookies only and so this allows me to try out new recipes and have the results not go to waste and he gets different cookies.
This month's cookie came from Southern Living 2002 Annual Recipes. I used to be a big fan of Southern Living cookbooks but had kind of drifted away in the last 5 or 6 years. I realized when I was cooking for Thanksgiving and Christmas this past year that so many of our absolutely favorite it can't be Thanksgiving without that on the table dishes are from Southern Living and thought it might be fun to revisit some of their older cookbooks. I'm very glad I did as these cookies are delicious!
Crispy Praline Cookies
1 cup all-purpose flour
1 cup firmly packed dark brown sugar (I used light because that's what I had)
1 large egg
1 cup chopped pecans
1/2 cup butter, softened
1 teaspoon vanilla
1 cup semisweet chocolate chips (these were optional but when are chocolate chips actually optional?)
Stir together all ingredients in a large bowl, blending well. Drop by tablespoonfuls onto ungreased baking sheets.

Bake at 350 for 13 to 15 minutes (I did just 13). Cool on baking sheets 1 minute; remove cookies to wire racks to cool completely.
And that's it! Other than using light brown sugar instead of dark brown sugar I made no changes. My oven is older and somewhat temperamental so I did use a stoneware baking sheet because that seems to regulate the baking temperature a little bit better for the cookies so I can't say if these would stick to a regular cookie sheet. They came off the stoneware easily.
My Results: Oh my these were good! I didn't find them particularly crispy but they might have been if I'd cooked them a little bit longer. I'm not a huge lover of crispy cookies so I was good with that. They were soft but held together, full of nutty pecan flavor and lots of yummy chocolate chops. If you're a fan of pecans make these cookies! You won't regret it!