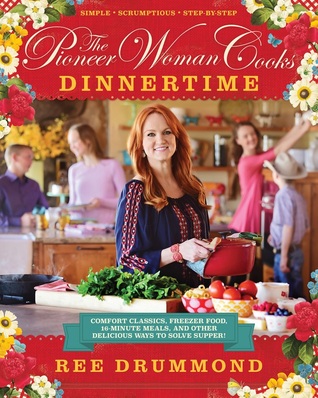 Christmas is always kind of a funny time for cooking. I feel like I do nothing but cook but we end up eating out or eating leftovers most of the time somehow. But once Christmas is done I start feeling the urge to actually cook dinner again and this week seemed like the perfect time to try out Ree Drummond's newest cookbook - The Pioneer Woman Cooks: Dinnertime.
If you have any of The Pioneer Woman's other cookbooks you kind of know what to expect in terms of variety. This cookbook is full of recipes and cover everything you could possibly need - there's plenty of sides, breads, main dishes, desserts, salads and everything else and all the recipes are pretty family friendly but don't rely on cream of whatever soups or tons of other processed foods (though this is by no means health food). This book does focus a little more on recipes you can plan ahead with. For example there's a recipe for basic meatballs and then about 6 different variations for them with the thinking that you could make the meatballs way ahead of time and in bulk and then just heat them up, combine them with sauce and side and get very different meals with little fuss.
Here are a few recipes I'm looking forward to trying:
Croissant French Toast
Panzanella
Swedish Meatballs
Chicken with Mustard Cream Sauce
Pan-Fried Chicken
Bow-tie Chicken Alfredo
Pork Chops with Wine and Roasted Garlic
and really I could go on and on. There are so many good looking recipes in this book! The one I'm going to share is from the Comfort Classics chapter.
Salisbury Steak
Steaks:
1 1/2 pounds lean ground beef
1/2 cup seasoned bread crumbs
2 tablespoons heavy cream
2 teaspoons dry mustard
1 beef bouillon cube, crumbled
'4 dashes of Worcestershire sauce (I was pretty heavy handed with my dashes)
1 tablespoon ketchup
1/2 teaspoon salt
1/2 teaspoon black pepper
1 tablespoon butter
Gravy:
1/2 onion, halved and thinly sliced
2 1/4 cups beef broth (I used about 2 cups beef broth and 1/4 cup chicken broth because that's what I had)
1 tablespoon ketchup
1 teaspoon Kitchen Bouquet browning sauce (optional)(I didn't use it)
2 tablespoons cornstarch
kosher salt and black pepper to taste.
1. To make the steaks, combine the beef, breadcrumbs, cream, mustard, bouillon, Worcestershire, ketchup, salt, and pepper in a bowl.
2. Knead the mixture until it's evenly combined, then form it into 6 oblong patties. Use your little finger to press indentations all down the patties. (this is just for fun, to give them a "steak" appearance)
3 Heat a large skillet over medium-high heat and add the olive oil and butter. Fry the patties on both sides until nicely crusted outside and no longer pink in the middle, 3 to 4 minutes per side. Remove the patties to a plate.
4. To make the gravy, add the onion to the pan.
5. Saute the onion for several minutes, until golden, then add 2 cups of the beef broth, the Worcestershire, ketchup and Kitchen Bouquet (if using - I didn't).
6. Stir and cook for 2 to 3 minutes to reduce the liquid slightly.
7. Make a slurry by mixing together the cornstarch and remaining 1/4 cup broth.
8. Pour the slurry into the gravy, then stir and let it bubble up and thicken for 3 to 4 minutes. Taste and adjust the seasonings, adding salt and pepper, inf the flavors need more pop.
9. Nestle the steaks into the skillet and spoon the gravy over the top. Let it simmer for a couple more minutes.
My Changes:
None. The recipe was straightforward and I followed it exactly.
My Results:
A delicious stick to your ribs meal without too many complicated steps. I served it with
these mashed potatoes
which finish in the oven and it was delicious!
Make Again?:
Absolutely! My husband might revolt if I didn't. He loved it!
Recommended For?:
I'd recommend this book to just about everyone. The recipes are solid and reliable without being overly complicated and I think there's something for even the pickiest of family members. The instructions are fully written out with pictures which would make this great for beginning cooks as well. If you're a vegetarian this may not be a book you would get a lot out of. Most of the dishes do involve meat of some kind.
I'm linking up with Weekend Cooking hosted by
Beth Fish Reads