This week's Top Ten Tuesday Topic from
The Broke and the Bookish
is either the Top Ten Books/Movies to get you in a Halloween mood or Top Ten Characters to Dress Up As. Now since I don't read much fantasy or sci-fi my book characters either dress modern day or 19th century and while I love my characters a hoop skirt for Halloween just isn't happening!
So here are the Top Ten Books (and 2 movies) I'll be reaching for to get me all nice and spooky feeling!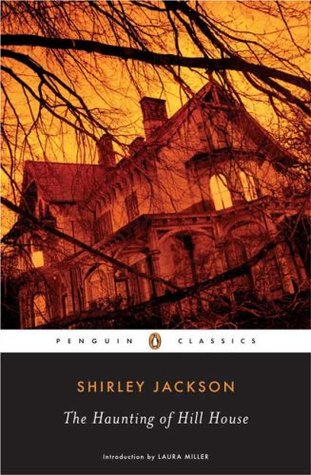 1. The Haunting of Hill House by Shirley Jackson
This is a subtly creepy book. If you go in expecting a horror story I think you'll be disappointed but it's definitely got some eerie creepiness. Listen to the audio if you get a chance!
2. The Woman in Black by Susan Hill
I haven't actually read this book but J and I saw it in play form. Going in we were thinking how scary can a local theater play be? Answer? Really really scary!
3. The Blue Dahlia and the rest of the In the Garden series by Nora Roberts
This is a somewhat darker trilogy from Roberts' with a really creepy ghost.
4. Ammie, Come Home by Barbara Michaels
I love this classic ghost story from Barbara Michaels. It's just spooky enough and I love the history mixed in.
5. Rebecca by Daphne du Maurier
You can't have a spooky book list with out mentioning Rebecca. Mrs. Danvers anyone? That scene where the main character runs into Mrs. Danvers in Rebecca's old room gives me goosebumps!
6. The Birds and Other Stories by Daphne du Maurier
I expected some creepiness since this is by the author of Rebecca and this is a story that inspired Hitchcock's movie of the same name. This is seriously creepy though! I haven't been quite comfortable seeing a flock of birds since reading this one.
7. The Crying Child by Barbara Michaels
Another Barbara Michaels and another ghost story though this features a secluded island in Maine, 2 women yearning for different things and the eerie call of a child in the night.
8. The Ghost Hunter's series by Victoria Laurie -
This is definitely a little sillier than the previous books but they're still a lot of fun. MJ and her sidekicks explore some creepy locations and take on an assortment of ghosts.
9. The Shining -
This is on my list of Stephen King books to try when I get up the courage. As for now both movie forms I've seen (the Jack Nicholson movie and a mini-series) have definitely made me look over my shoulder and avoid dark hallways!
10. The Amityville Horror - I actually really enjoyed the newer version with Ryan Reynolds though of course the original is good too.