It's Friday so time to participate in Book Blogger Hop with
Coffee Addicted Writer
, Book Beginnings on Fridays hosted by
Rose City Reader
, and the Friday 56 hosted by
Freda's Voice
.
Question:
What is the scariest book title you have either read or heard about?
Answer:
It isn't necessarily the scariest title but the book that the mere mention of can make me shudder is Stephen King's It. I think it's a combination of vague title, seriously creepy cover and some scenes from the movie that are permanently etched on my brain!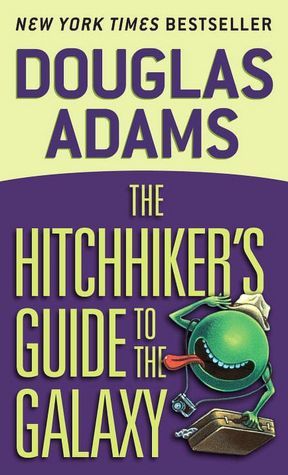 This week's book is The Hitchhiker's Guide to the Galaxy by Douglas Adams. I read this book when I was 11 or 12 and remember really enjoying it. I've also seen the fairly recent movie and an older BBC production where I'm pretty sure the prop budget consisted of whatever spare change the production crew could pull out of their pockets. However, my very first run in with this story comes in computer game form. Back in the 80s we had the PC game version of this book. It had no graphics, only words. To do something you'd type in a command and it would spit text back out at you and you'd go from there. Anyone else remember those types of games? They were great fun though my kids look at me like I'm nuts when I talk about them!
The Beginning - from the prologue:
"Far out in the uncharted backwaters of the unfashionable end of the Western Spiral arm of the Galaxy lies a small unregarded yellow sun."
And from Page 56:
" The Universe jumped, froze, quivered and splayed out in several unexpected directions.
Arthur and Ford opened their eyes and looked about in considerable surprise."
So what do you think? Keep reading? I for one love Adams sly and almost serious type of humor!