*I want to apologize for not being around much today to visit everyone else's links. I love seeing everyone's answers and book choices but I'm going to be having very minor surgery today and will most likely be out of it for the rest of the day. I'm looking forward to visiting everyone hopefully tomorrow but definitely in the next few days
It's Friday! Time to link up with
Coffee Addicted Writer
for Book Blogger Hop
Question:
You accidentally released ghouls from a novel and they are now running amok. Which fictional hero (book or film) would you like to help you defeat the ghouls?
My Answer:
I haven't read many ghoul catching books other than Victoria Laurie's Ghost Hunter series and while Heath is not bad I think I'd rather hang out with the ghouls than deal with Gilley. So, I think I"m going to go a little out of the box and pick Ty Garrison from Jill Shalvis's Lucky Harbor series book Lucky in Love. He has some crazy military training and I'm thinking he'd be quick on his feet and good in a crisis. Any ideas for some ghoul hunting books I need to read?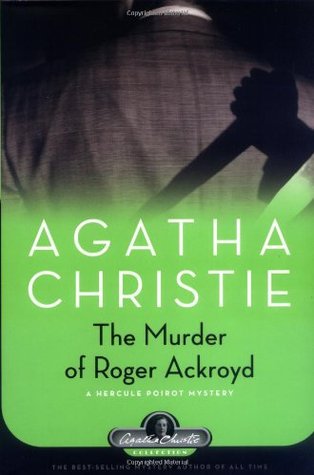 This week's book is The Murder of Roger Ackroyd by Agatha Christie (I know you're shocked). While until this point Christie had enjoyed moderate success, it was this book that made her famous. This was the book that got everyone's attention. Some people accused her of cheating, some people called her brilliant but everyone read it.
The Beginning:
Mrs. Ferrars died on the night of the 16th - 17th September - a Thursday. I was sent for at eight o'clock on the morning of Friday the 17th. There was nothing to be done. She had been dead for some hours.
The 56 (from page 56 of my paperback):
" "No suspicious strangers been hanging about anywhere?"
"Oh!" I said suddenly.
"What is it, doctor?"
"I met a man this evening - just as I was turning out of the gate. He asked me the way to Fernly Park." "
So what do you think? Keep reading?