Today was supposed to be a review for The Ripper's Wife but the reading isn't going so well for that one and I'm still a little fuzzy-headed from Friday's oral surgery so instead you get the first four Hercule Poirot books by Agatha Christie. This is quite a group - we have not only Poirot's introduction to the world but Agatha's first book as well, her first short story collection and her first controversial book. In these Poirot becomes the fully fleshed out character with a host of quirks and eccentricities that will continue on for the next 50 years in pretty much every entertainment medium imaginable.
The Mysterious Affair at Styles (1921)
This book begins not with our meeting Poirot but with our meeting Captain Hastings as he is arriving at Styles Court to stay with friends while recovering from a combat related injury. There is quite a large family staying at the house. In addition to Hastings' friend John and his wife Mary, there is John's brother Lawrence, a cousin named Cynthia Murdoch, a kind of gardener/assistant Evelyn Howard, John's step-mother Emily Inglethorpe and her new husband Alfred Inglethorpe. The tension is high as Emily is in charge of the money, everyone hates Alfred, John and Mary's marriage seems to falling apart and an assorted cast of characters are wandering about looking to engage in flirtations. And then Hastings runs into an old friend, the amazing and not so humble detective, Hercule Poirot. When Emily Inglethorpe is murdered in a locked room Hastings calls in Poirot and the local police call in Chief Inspector Japp who we will see quite a bit of over the years. This is a great introduction to Poirot and though it can be a little dry the twists and turns are marvelous and not to be missed!
4 Stars
Murder on the Links (1923)
Some time has passed since we last saw Poirot and Hastings. The War is over, Hastings has a job with the government and Poirot is comfortably settled in London and working as a private detective for the elite. When they receive an urgent letter from South American millionaire Paul Renauld they hurry to his home in France only to find the man already dead, killed during what would now be deemed a home invasion. All is not quite as it seems however as Poirot recognizes that something about the whole setup is familiar to him. There seem to be a pretty large cast of characters and it can get a little difficult to remember who is who and how they fit in. While this isn't my favorite we do meet an important character in Hastings life which is pretty fun. The reveal is definitely Agatha worthy as well.
3.5 Stars
Poirot Investigates (1924)
I'm not usually a fan of short story collections - especially with a mystery - but Agatha is a master. In these stories you get 14 Poirot mysteries involving everything from figuring out why the rent of a flat was so cheap to solving murders. Some of these are with Hastings and some without and one is the mystery that Poirot considers his greatest failure. If you're trying to figure out if Poirot is a detective you want to read than I'd definitely recommend this collection.
4 Stars
The Murder of Roger Ackroyd (1926)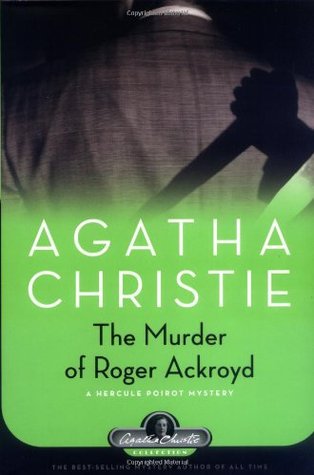 The Murder of Roger Ackroyd is Agatha's most controversial novel. When it was published it immediately made her a household name. The Agatha twist was called everything from brilliant to cheating. She vigorously denied the cheating accusation saying the clues are in the book and if you read it carefully you will figure it out. It's definitely a fun one to read both before and after knowing what all happens. In this we see Poirot in the first of many retirements. He has ended up in a little village without his good friend Hastings and is trying to grow perfect vegetable marrows. When 2 upstanding and prominent citizens die close together Poirot is called in to figure out what is going on and sort out the many suspects.
4 Stars