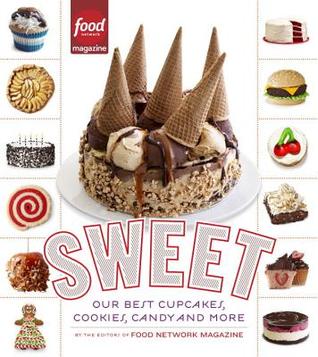 Sweet: Our Best Cupcakes, Cookies, Candy and More from The Editors of Food Network Magazine
I have a sweet tooth. Like a crazy hard to satisfy kind of sweet tooth. If I could only eat one type of food for the rest of my life it I would pick dessert with very little hesitation. Based on the cover alone I couldn't pass this book up! And I'm so glad I didn't!
Now cookbooks that center on sweets are sometimes amazing but frequently uninspiring or focus on decorating which is just not in my wheelhouse. While I'd love to make a cupcake look like a puppy or a butterfly my rather limited artistic abilities assure me that that isn't going to happen. So I wasn't sure what to expect when this book arrived but I sat down with an open mind and my handy post it tabs and prepared to do a flip through.
Now a couple of weeks ago I reviewed another baking book called Ovenly which featured amazing and unusual baked goods. This isn't that kind of book. While there are some interesting ideas here it's not something that's new and different. Instead there's comforting favorites with the occasional slight twist like Peanut Brittle Chocolate Cupcakes, Chocolate Malt Cupcakes, Strawberry Blondies, Classic Lemon Bars and Boston Cream Pie. There are chapters for cupcakes, for cakes, cookies, candies and frozen treats. As well as one chapter for decorated desserts and another chapter that focuses on holiday treats. There's also a handy frosting guide that shows you the ratios of food color to use to get every color you can possible think of. The book itself is well photographed with a picture for almost all the finished products and several guides and charts. This is definitely a great how to guide for anyone who enjoys baking or wants to learn how to bake.
So when it came time to choose a recipe to test I had lots of options. After much debate I went with Whoopie Pies. Now apparently this is a Maine specialty so I can't say I've ever had an official Whoopie Pie so I can't really speak of the accuracy. What I can tell you is this is the most pillow-y soft chocolate cookie you'll ever have with a smear of creamy vanilla frosting in between the layers. They were simply amazing. The instructions were easy to follow and like most of the recipes didn't require any difficult to find ingredient. The cooking time was accurate and my results when follwing the recipe exactly were very tasty. The only problem I had was that I ended up with quite a bit more cookies than the recipe specified and barely had enough frosting to go around. When I make these again (and trust me I will be making these again) I will increase the frosting by abut 50%.
If you want to bake, enjoy baking or know someone who does either this is a great book that covers all bases from the simple to the complicated and the plain to the elaborate. I will definitely be reaching for this one next time I want to do some baking.
*Received through Blogging for Books in exchange for an honest review.