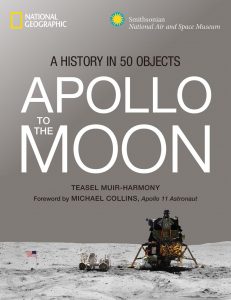 About Apollo to the Moon
• Hardcover:
304 pages
• Publisher:
National Geographic (October 30, 2018)
A celebration of the 50th anniversary of NASA's Apollo missions to the moon, this narrative uses 50 key artifacts from the Smithsonian archives to tell the story of the groundbreaking space exploration program. Bold photographs, fascinating graphics, and engaging stories commemorate the 20th century's most important space endeavor: NASA's Apollo program to reach the moon. From the lunar rover and an emergency oxygen mask to space food and moon rocks, it's a carefully curated array of objects--complete with intriguing back stories and profiles of key participants. This book showcases the historic space exploration program that landed humans on the moon, advanced the world's capabilities for space travel, and revolutionized our sense of humanity's place in the universe. Each historic accomplishment is symbolized by a different object, from a Russian stamp honoring Yuri Gagarin and plastic astronaut action figures to the Apollo 11 command module, piloted by Michael Collins as Armstrong and Aldrin made the first moonwalk, together with the monumental art inspired by these moon missions. Throughout, Apollo to the Moon also tells the story of people who made the journey possible: the heroic astronauts as well as their supporters, including President John F. Kennedy, newsman Walter Cronkite, and NASA scientists such as Margaret Hamilton.
My Thoughts:
I live in the town that the space program built. Most of our schools are named after either astronauts or shuttles. My husband is an aerospace engineer, my mother works for the US Space and Rocket Center and we all drive past a Saturn V on a daily basis. The NASA channel is included with every cable package available and you can get a license plate with a Saturn V on it. With the space program being so much a part of my day to day life I figured there wasn't much this book could teach me but I was so wrong! This isn't one of those read from cover to cover books. Instead it's delight to pick up and flip through. It's stuffed full of interesting pictures and fascinating tidbits some obscure and some more common knowledge. This is a book that will live on my coffee table and will probably show up under the tree for a number of people on my gift list. This is an interesting book and perfect for experts and newbies of all ages.
Rating: Very Good
Purchase Links