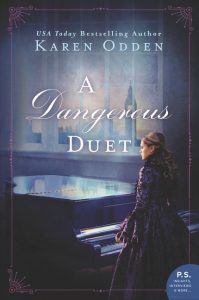 About A Dangerous Duet
• Paperback:
416 pages
• Publisher:
William Morrow Paperbacks (November 6, 2018)
This dazzling new Victorian mystery from USA Today bestselling author Karen Odden introduces readers to Nell Hallam, a determined young pianist who stumbles upon the operations of a notorious—and deadly—crime ring while illicitly working as the piano player in a Soho music hall. Perfect for readers of Tasha Alexander, Anne Perry, and Deanna Raybourn.
Nineteen-year-old Nell Hallam lives in a modest corner of Mayfair with her brother Matthew, an inspector at Scotland Yard. An exceptionally talented pianist, she aspires to attend the Royal Academy; but with tuition beyond their means, Nell sets out to earn the money herself—by playing piano in a popular Soho music hall. And the fact that she will have to disguise herself as a man and slip out at night to do it doesn't deter her. Spending evenings at the Octavian is like entering an alternate world, one of lively energy, fascinating performers, raucous patrons—and dark secrets. And when Nell stumbles upon the operations of an infamous crime ring working in the shadows of the music hall, she is drawn into a conspiracy that stretches the length of London. To further complicate matters, she has begun to fall for the hall owner's charismatic son, Jack, who has secrets of his own. The more Nell becomes a part of the Octavian's world, the more she risks the relationships with the people she loves. And when another performer is left for dead in an alley as a warning, she realizes her future could be in jeopardy in more ways than one.
My Thoughts:
I have been loving historical mysteries lately and this one was no exception and completely unlike any of the others I've read lately. Right from the start I was immediately drawn in and I loved the unusual angle. Nell is determined and talented with a rather unusual upbringing. Her brother's Scotland Yard career brings her into orbit of crime but she's still not really involved in the law enforcement world. Her career as a pianist at a music hall brings her into the orbit of a rather shady section of society. There's also a mental health element that I found especially interesting. The mystery was just as fascinating as Nell's life. I loved the combination of the more clinical investigation and the up close and personal through Nell's eyes. This was a fascinating and entertaining read with well developed characters and a thoroughly fleshed out and authentic feeling world.
Rating: Very Good

Purchase Links

About Karen Odden
KAREN ODDEN received her PhD in English literature from New York University and has taught at the University of Wisconsin-Milwaukee and the University of Michigan-Ann Arbor. She currently serves as an assistant editor for the academic journal
Victorian Literature and Culture
. Her debut novel,
A Lady in the Smoke
, was a
USA Today
bestseller. Find out more about Karen at her
website
, and connect with her on
Facebook
and
Twitter
.