Today's Top Ten Tuesday topic from
The Broke and the Bookish
is a Halloween Freebie. I thought I'd talk about some of my favorite Halloween reads. While I don't tend to read a lot of horror there are a few book of varying degrees of scariness that I feel the urge to read when the weather starts getting cooler and pumpkins start appearing.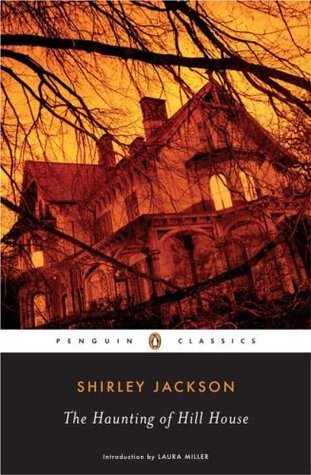 1.
The Haunting of Hill House by Shirley Jackson
- I see this book on horror lists occasionally and I really wish it wasn't because I don't think it's really a horror book. If you go in expecting that I think you're going to be disappointed. However, it is incredibly creepy and all kinds of eerie and fantastic for this time of year!
2.
The Canterville Ghost by Oscar Wilde
- There is nothing scary about this book featuring a traditional English ghost in a traditional manor house who is not at all happy when an American family moves in and is decidedly un-scared by his ghostly behavior. While the ending is a little odd I love the rest of this short little incredibly entertaining book!
3.
The Graveyard Book by Neil Gaiman
- I just read this one for the first time and really enjoyed it. I'm not sure if I'll be rereading this every year but I can definitely see trying to get it in audio next Halloween!
4.
Bunnicula by Deborah and James Howe
- I don't think I'd heard of this little book about a vampire bunny until Stormi mentioned it as her favorite Halloween book a year or two ago and then I was lucky enough to win it in a giveaway. It's been the bedtime book for the Tornado this past week and he's loving it. I was worried it'd be too scary but it really isn't and it's just wildly entertaining. I see there are more books in the series and I'm looking forward to getting them next year.
5.
The House of Many Shadows by Barbara Michaels
- I love Michaels' spooky gothic-y stories and this one about a spooky house with a long history is one of my favorites. Plus, I have a little house envy as none of my family members has yet to leave me a big house crammed to the gills with boxes of who knows what!
6.
The Screaming Staircase (Lockwood & Co. #1) by Jonathan Stroud
- I really enjoyed this first one in the series about a group of adolescent ghost hunters. The main characters are smart and entertaining and the ghosts are definitely menacing. This is a series I'm really looking forward to continuing.
7.
Among the Shadows: Tales from the Darker Side by L.M. Montgomery
- When you think of Montgomery books what tends to come to mind are stories of optimistic hard working people who always look on the bright side of things. In this short story collection things take a bit of a different turn with unsettling events, miserable characters and more than a couple of ghosts. While most do have a happy or at least positive ending they're much darker than I would normally expect from the creator of Anne, Emily, Jane, and Marigold.
8.
The Hound of the Baskervilles by Arthur Conan Doyle
- I read this years and years ago but as I've been getting reacquainted with Holmes through reboots like Sherlock and Elementary I'm anxious to reread this one!
9.
The Moonstone Castle by Carolyn Keene
- I have this one on my nightstand ready for a reread before Halloween happens. While I devoured all of the Nancy Drew books as quick as I could as a child this one really sticks out in my head as one that gave me a serious case of the creeps. I'm looking forward to seeing just what it was that I found so creepy!
10.
Ghostland: An American History in Haunted Places by Colin Dickey
- After Liberty Hardy describe this book on the Book Riot All the Books Podcast I knew there was no way I could pass it up! She compares Colin Dickey to a somewhat more morbid Mary Roach and it's all about ghosts! I just started this one and I'm so excited about it!
What reads do you want to pick up at Halloween time?