Today I'm doing short reviews on two books that have been on my shelf for far too long. That's pretty much the only thing these books had in common as they couldn't be more different if they tried!
I don't remember when I first became interested in forensic science. It was either in the first few Kay Scarpetta books by Patricia Cornwell or because of a show on the Discovery Channel called New Detectives which I loved. Where ever it came from I've been a fan of all things crime and forensics ever since so when I saw
Silent Witnesses by Nigel McCrery
on NetGalley last year I couldn't resist it and I'm so glad I didn't! It was completely fascinating. In each chapter McCrery tackles an aspect important to forensic science (Identification, Blood, DNA, Ballistics, etc) and explores it thoroughly. He gives up the history of the development of the science and actual cases that were landmarks in developing the science I found the old cases interesting and it helped keep the subject from getting too dry. If you're a fan of CSI type shows then I think you would enjoy this one. It definitely helped me understand the science behind the terms that get tossed around on TV and in books so frequently.
Rating
:
4 Stars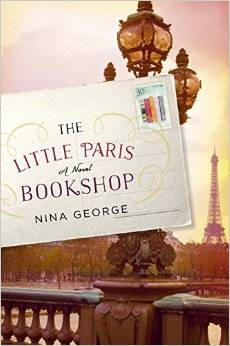 Next up is
The Little Paris Bookshop by Nina George
. Like most book lovers, I can't resist a book about a bookshop and put one in Paris on a barge run by a man who treats books like medicine and I was immediately hooked. Unfortunately, this wasn't the book I wanted it to be. I don't think it's a bad book. In fact I think it's an excellent book of it's type but the problem is that it's a type that I don't really relate too. There were parts I really enjoyed. Some of the dialogue sparkled with a dry wit and I very much wanted to see how the story spun out. But, the incident that sparked this journey made absolutely no sense to me. I had little patience with Perdu's worrying and hesitations and the long winded flashbacks and daydreams just didn't click with me. The writing was lovely and I think this is a case of a book and a reader just not working together. I think if you can be sympathetic to waiting 20 years to open a letter from someone you loved who left you, then you might enjoy this book. If you can't you may want to pass. For another take try
this review from Tina at Novel Meals
,
this review from Kathryn at The Book Date
, or
this one from Heather at Random Redheaded Ramblings
.
Rating: Not for me