This is the 2nd year in a row I've gotten into Christmas themed books and I've got to say it's a tradition I'm planning on keeping! This year I added a Christmas related mystery and a Christmas-y cookbook. If you're looking for a quick Christmas- read to read at the end of the season here are some suggestions:
A Cold Creek Christmas Story by RaeAnn Thayne
- This was probably my favorite Christmas read. Thayne is pretty much the Queen of Christmas books and this was sweet and lovely with wonderful characters and lots of healing and redemption and holiday cheer.
Evergreen Springs by RaeAnn Thayne
- Another Thayne book and this one in another series. I didn't like this one quite as much but it was still a lovely read. Thayne's skill at really forging emotional connections between her characters is fantastic and it was nice to see Devin as the focus after seeing so much of her as a side character in the last book.
A Knights Bridge Christmas by Carla Neggers
- I always enjoy the Swift River Valley series from Carla Neggers but this was probably my favorite of the series and since both main characters in the series are newcomers you can jump in here without having to keep all the Sloans and O'Dunns straight.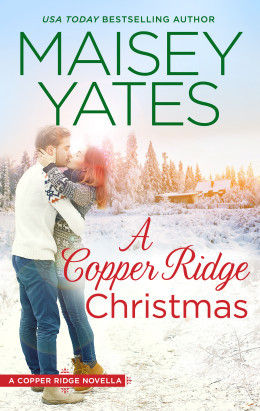 A Copper Ridge Christmas by Maisey Yates
- This one wasn't flawless but it was a nice introduction to Copper Ridge which is definitely a town I'm looking forward to revisiting.
All Wrapped Up by Kimberly Kincaid
- Nick Brennan finally gets his story! While I didn't love all the secrets it was still a lot of fun and I absolutely cannot wait to get reading the next one!
Christmas at Mustang Creek by Linda Lael Miller
- For some reason this was my first book by Miller though it definitely won't be my last. It was a nice 2nd chance story with a dash of Christmas magic.
Christmas at Evergreen Inn by Donna Alward
- This novella was a fabulous way to revisit Jewell Cove while we're waiting for the next book!
Or if you've had enough Christmas romance how about some Christmas murder?
Lowcountry Bordello by Susan M. Boyer
- Answers the question - how do you "accidentally" end up owning a bordello AND races to catch a murderer in time for a Christmas wedding.
So that was what I read to get in the Christmas spirit this year. What did you read?
To get even more Christmas-y I've been doing some Hallmark Christmas Movie watching. My very favorite so far is Debbie Macomber's Mrs. Miracle which was just so sweet. Also on deck, is Nine Lives of Christmas which is based on a Sheila Roberts book. I cannot resist the book to Hallmark/Lifetime movie movies!