Isn't this graphic awesome! I'm borrowing it from Michelle over at
Because Reading
Every year I like to look back at the reading I did and see what worked and what didn't. Going in this year I didn't really have any goals in mind other than to read 130 books. I had signed up for a few challenges which were all awesome but this is the year that I'm finally going to admit that while I love the idea of challenges I kind of suck at the actual execution of them.
Reading
Thinking back on this year there aren't many books that jump out at me. I made my 130 goal (or I will have if I finish the 2 books I'm almost done with by Dec 31) and liked the overwhelming majority of books I read but there weren't very many that I just loved. On the plus side there weren't very many that I hated either. Part of this could be that I did get a little bit better at DNFing but for the most part I think it's because I stayed within my comfort zone and didn't push myself very much. I read a lot of what I consider comfort reading which makes for an unfocused feeling. I think I would like to come up with some more personal goals for next year but haven't quite formalized what that means yet.
Favorites:
These are all books I read in 2015 though not all were published this year. Rereads, unfortunately, not count which is why my beloved Agatha Christie does not appear.
Mysteries - This is my most read genre with over 40 regular mysteries and 6 classic mysteries read.
There were several mysteries in the running for favorite but I think the one that really sticks out is: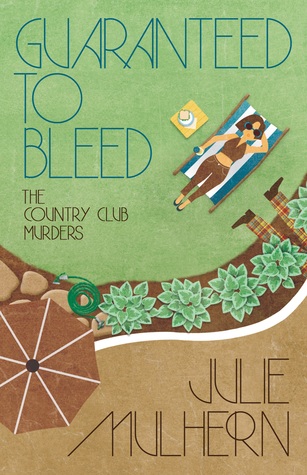 Guaranteed to Bleed by Julie Mulhern - I loved this cozy set in the 1970s and can't wait to read more of the series.
Honorable Mention: Henrietta Who? by Catherine Aird - this is a classic mystery author that I've just discovered in the last couple of years. It's only the 2nd book I've read by her but I'm looking forward to reading more.
Nonfiction:
I really didn't think I had read much nonfiction this year but I ended up reading more than I thought - especially at the end with a plunge into Russian history. I read a lot more humorous nonfiction so that may have been the reason?
The Residence: Inside the Private World of the White House by Kate Andersen Brower
- This was the clear winner. While I loved all the nonfiction I read this year this one really stands out.
Honorable Mention:
Two way tie -
Furiously Happy by Jenny Lawson
and
Recipes for a Beautiful Life by Rebecca Barry
Fiction:
I'm including regular Fiction, Children's, and Classics in this category
The Peach Keeper by Sarah Addison Allen
- What really made this the favorite is that not only did I really enjoy the book while I was reading it but the story and the feel of the story really stuck with me. This is an author I really wanted to read this year and I"m so glad I did!
Honorable Mention:
Book Scavenger by Jennifer Chambliss Bertman
because the idea of a game focused around books sounds fantastic and I loved this MG bookish adventure.
Romance:
This includes Contemporary, Historical, and Romantic Suspense. My Historical reading took a serious hit this year as I only read 2 (and one of those was a reread so it doesn't count) but my romantic suspense was way up with 15 and the Contemporary count was fairly high as well with 25.
The Liar by Nora Roberts -
Roberts has long been one of my go-to authors in the romance genre but her books the last few years just haven't grabbed me. I was thrilled when I immediately connected with The Liar and tore through it in just a couple of days.
Honorable Mention -
Pretty much anything Jill Shalvis and RaeAnne Thayne wrote. Everything I read by either of those authors I absolutely loved.
So that was 2015 for me. How was your year in reading? Any favorites? Anything you want to do differently next year?