Top Ten Tuesday from
The Broke and the Bookish
seems to be on a well deserved hiatus so today I'm doing The Fives! This is a post that I found that I had done way back in February of 2014 that I had seen Trish over at
Love, Laughter and a Touch of Insanity
and Lisa over at
Lit and Life
do. I thought it was really fun then and it turned out to be really fun to do again!
5 Books I've Recently Added to My TBR List
1.
Dragonslayer by Emilie Richards
- I love Richards' books though I don't read them enough and Kathryn over at Book Date gave this one high marks.
2.
At Fairfield Orchard by Emma Cane
- The cover is so pretty I couldn't resist!
3.
The Camelot Caper by Elizabeth Peters
- I read this one years ago but I've been wanting to revisit Elizabeth Peters' books.
4.
Someone to Wed by Mary Balogh
- I love Balogh but haven't read enough and Lark over at Bookwyrm's Hoard rhas really enjoyed this series.
5.
The Magic Bedknob by Mary Norton
- This is the first in the Bedknobs and Broomsticks series. I saw the movie ages and ages ago but I'm really wanting to read the book!
5 Books I'm Planning to Read in the Near Future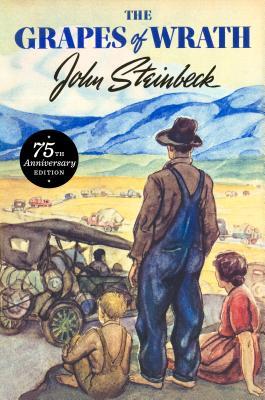 1.
Grapes of Wrath by John Steinbeck
- I love Steinbeck and have read most of his books but somehow I've never gotten the book he's most known for.
2.
Scandal in Skibberdeen by Sheila Connolly
- Sheila Connolly is one of my favorite cozy mystery authors and I really enjoyed the first book in this series set in Ireland. I'm really excited about the second book.
3.
Evil Under the Sun by Agatha Christe
- I'm making my way through Christie's Poirot books and this is the next one. It's one of my favorites.
4.
Diamonds are Forever by Ian Fleming
- It's been awhile since I read the 3rd James Bond book, Moonraker, so it's time to go back and pick up #4!
5.
Key of Knowledge by Nora Roberts
- I just reread the first in this trilogy and really enjoyed it so I'm looking forward to rereading the second which was my favorite!
5 Books I Own but Still Haven't Read
1.
Because of Miss Bridgerton by Julia Quinn
- I'm almost scared to read this one. I loved the Bridgerton series so much that I'm afraid this one won't live up to my expectations.
2.
A Beautiful Blue Death by Charles Finch
- I've been wanting to start this Charles Lennox series for years and don't even remember when I bought this book but I'm determined to get to it this year.
3.
Untraceable by Laura Griffin
- I've loved the most recent two in this series and am really looking forward to retracing my steps with book one of the series.
4.
Headhunters on My Doorstep: A True Treasure Island Ghost Story by J. Maarten Troost
- The title itself is amazing. I'm super excited about it!
5.
An Expert in Murder by Nicole Upson
- The detective in this book is mystery writer Josephine Tey. I've been reading her books for years so I'm looking forward to reading a book that focuses on her.
5 Books from a Series I Need to Continue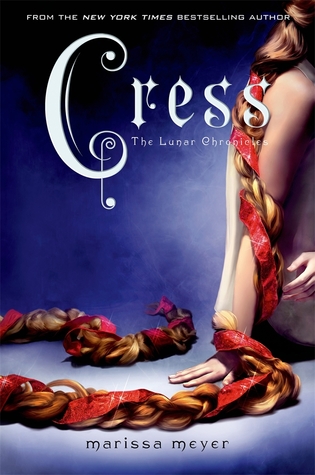 1.
Cress by Marissa Meyer
- I read the first two books in the Lunar Chronicles and absolutely loved them. I need to finish the series.
2.
God of the Hive by Laurie R. King
- I've been reading this series about Mary Russell and her husband, a very retired Sherlock Holmes, since college and have always really loved it. Somehow I've gotten seriously behind and desperately need to catch up. Part of me wants to go back and start at the beginning since it's been so long since I read the early books but that's probably not going to happen so I've kind of locked up.
3.
Lockwood and Co: The Whispering Skull by Jonathan Stroud
- I read The Screaming Staircase last year and really enjoyed it. There were some hints dropped in that book about this one and I've been looking forward to reading them ever since.
4.
Peril in Paperback by Kate Carlisle
- This is a super solid cozy mystery series all about a book restorer named Brooklyn. The mysteries are always great and the descriptions of books are absolutely amazing.
5.
Bay of Sighs by Nora Roberts
- I absolutely loved the first book in this trilogy and swore I'd read the 2nd book as soon as it came out which was June of 2016. Now my goal is to get to it before June of 2017!
5 Soon to Be Released Books I'm Looking Forward to Reading
1. Last Chance Matinee by Mariah Stewart - I love Mariah Stewart and I love series that focus on sisters so this first book in a series about sisters written by Mariah Stewart sounds amazing!
2. Gone Without a Trace by Mary Torjussen - This book about a woman who comes home to find her boyfriend not just gone but erased sounds pretty page turning!
3. Bad Housekeeping by Maia Chance - Maia Chance's cozies always make me giggle and this one involving an inn sounds like the beginning of a series I'll love!
4. The Girl with the Make Believe Husband by Julia Quinn - It's by Julia Quinn. The title could be "this is the most boring book ever" and I'd still probably be excited about it!
5. Our Sweet Basil Kitchen by Cade and Carrian Chesney - I love the Sweet Basil blog so I'm super excited for this new cookbook!