It's Friday linkup time! I'm linking up with the Book Blogger Hop hosted by
Coffee Addicted Writer
, Book Beginnings of Fridays hosted by
Rose City Reader
, and the Friday 56 hosted by
Freda's Voice
This Week's Book Blogger Hop Question:
Do you read a lot of diverse or own voices books? Why or why not?
My Answer:
Not really. I'm not purposely choosing to not read them it's just I typically read genre fiction like mysteries and romance which I'm not sure really have options that fall under the diverse or own voice tag.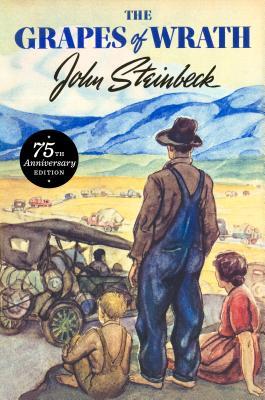 This week's book is a classic I've been wanting to read for awhile. I've really enjoyed everything I've read by Steinbeck (except The Pearl but I refuse to speak of that one) but somehow never managed to read
The Grapes of Wrath
which feels like the book he's best known for. So far I'm really enjoying it. There's something about Steinbeck's writing style that I always enjoy and I'm reading a chapter or two of this a night. It's like a little treat at the end of the day just with lots of dust and sorrow.
The Beginning:
To the red country and part of the gray country of Oklahoma, the last rains came gently, and they did not cut the scarred earth.
My Thoughts:
I love how visual this is. I normally don't think of Steinbeck being particularly descriptive but I can just see the rain and the earth.
The 56:
Muley observed, "Judge says he give you a light sentence 'cause it wasn't all your fault"
My Thoughts:
I love how matter of fact Steinbeck's dialogue is and this scene is a really perfect example of that.
So what do you think? Keep reading? Are there any classics that you've been meaning to read but just somehow haven't picked up yet?