This week's Top Ten Tuesday topic from
The Broke and the Bookish
is the Top Ten Books I'm Looking Forward to in the First Half of 2017. For starters how is 2017 even a thing? It sounds like it would be the year some event in a scifi book is set in. And seriously just where did 2016 go? I'm not ready! I have so much more to read! But since time doesn't appear to have a pause button I guess it's time to look ahead and what treats lie in store for me in 2017!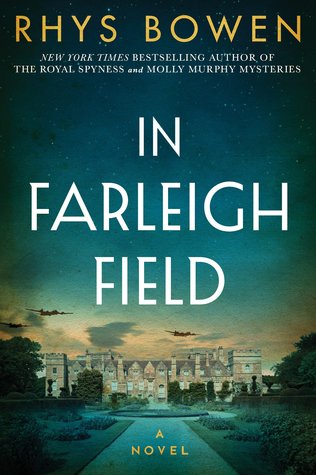 1. In Farleigh Field by Rhys Bowen (March 1, 2017) - Bletchley Park and one of my favorite mystery authors! I'm so excited about this book I can barely stand it!
2. Gone Without a Trace by Mary Torjussen (April 11, 2017) - I'm a sucker for a psychological thriller and this one looks fascinating. I love the whole concept about all the chaos caused by someone not just disappearing but having everything connected with them disappear as well.
3. Death and the Grave Diggers Angel by Loretta Ross (February 8, 2017) - I love this cozy mystery series. The first 2 have been fantastic and I can't wait to see what's going to happen next.
4. Wires and Nerves, Volume 1 by Marissa Meyer (January 31, 2017) - a graphic novel about Iko? Yes please!
5. Devil in Spring by Lisa Kleypas (February 21, 2017) - I can't even describe how excited I am about this one! Devil in Winter is one of my favorite historical romances ever and this one is about their son! Can't wait!
6. Garden of Lamentations by Deborah Crombie (February 7, 2017) - Deborah Crombie might just be my favorite mystery author ever even though I'm a bit behind on her books so I can't wait for this newest one!
7. She Stopped for Death by Elizabeth Kane Buzzelli (January 10, 2017) - I really enjoyed the first book in the Little Library series am am looking forward to seeing what happens in this next book
8. Seven Minutes in Heaven by Eloisa James (January 31, 2017) - Eloisa James is probably my most neglected historical romance author and I really want to read more of her books. Plus, I heard an interview where she was talking about htis one and it was hysterical!
9. Solutions and Other Problems by Allie Brosh (2017 maybe?) Pretty sure this was on my books I was looking forward to in 2016 list because the pub date keeps getting pushed back but I keep hoping it'll happen! Loved her first book and miss her blog!
10. The Girl with the Make Believe Husband by Julia Quinn (May 30, 2017) - It's a new Julia Quinn so that equals auto-buy!
What releases are you looking forward to in 2017?