It's Sunday Post time! This is hosted by the awesome
Caffeinated Book Reviewer
and gives us all a chance to recap our week.
What I Got:
Stir: My Broken Brain and the Meals that Brought Me Home by Jessica Fechtor
- When Jessica was 28 a brain aneurysm burst in her brain and caused her to reevaluate everything. (NetGalley)
Flipped by Ines Saint
- The blurb on this one reads like someone took a list of my favorite topics and put them in one book. The setting is a history rich small town with storybook architecture. One of the main characters is a perfumer who wants to restore a beautiful but ramshackle old house. She is forced to interact with the other main character who is a house flipper. All we need is them to find a packet of letters or a diary hidden in the wall and maybe a ghost or two. (NetGalley)
Murder at Beechwood by Alyssa Maxwell
- A Gilded Age murder mystery that takes place in high society Newport, Rhode Island. Yes please! (NetGalley)
The Forgotten by Heather Graham
- Because apparently Heather Graham is trying to kill me. I can never resist her books!
(NetGalley)
The Secret Sister by Brenda Nova
k - This is actually not part of her Whiskey Creek series but sounds like it's a bit of a thriller involving old family secrets. (NetGalley)
French Creek by Daphne du Maurier
- This is for my Reading Assignment Challenge and ever since reading The Birds I've been wanting to read more of du Maurier's work. (purchased)
How to Marry a Marquis and What Happens in London both by Julia Quinn
- This is all Quinn over at
Quinn's Book Nook's
fault. Her historical romance series made it impossible for me to resist picking these up again! (Purchased)
Currently:
Reading: Henrietta Who? by Catherine Aird and Savor the Moment by Nora Roberts which is a reread but I couldn't resist.

Listening: I finished the David Sedaris book and have just downloaded Bossy Pants by Tina Fey. I have actually read the book but I have a feeling this one, like Amy Poehler's Yes Plese, will be better in audio form.

Watching: I'm catching up on CSI: Cyber and hoping it won't be cancelled because I'm enjoying it. I'm still watching Murder She Wrote and the guest stars on there are amazing! Brian Cranston from Breaking Bad plays a tennis player at one point and Courtney Cox is one of Jessica's many many nieces.
Off the Blog:
Eleanor came home for a few days which was nice. Her boyfriend had dinner with us one night so it was good to get to know him a bit. We're basically on count down to Emma's graduation and the end of school for Paul and the Tornado.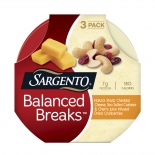 I discovered these Sargento Balanced Breaks the other day at the grocery store and I'm loving them. I have a sugar disorder and can get really shaky or even pass out if I don't stay balanced and these are perfect for that and pretty filling as well. I've pretty much just started buying them in bulk. I made
these
brown butter chocolate chip cookies from The Recipe Critic and they were amazing! Probably one of my favorite chocolate chip cookie recipes. I was almost done when I discovered I didn't have the tablespoon of Greek yogurt the recipe called for so I substituted sour cream and it worked perfectly.
On the Blog:
What Happened:
Wednesday:
Killing Weeds
- Cozy Mystery Blog Tour Review + Giveaway
What's Coming Up:
Monday Deadly Desires at Honeychurch Hall - Mystery Review
Tuesday: Top Ten Authors I'd Love to Meet
Wednesday: If Only - Fiction Review
Thursday: TBD
Friday: Friday Linkups with current book
Saturday: Cookie Love - Cookbook Review
Have a great week and happy reading!