It's Friday linkup time! I'm linking up with the Book Blogger Hop hosted by
Coffee Addicted Writer
, Book Beginnings of Fridays hosted by
Rose City Reader
, and the Friday 56 hosted by
Freda's Voice
.
Book Blogger Hop Question:
Do you belong to an online book club?
My Answer:
No. I've tried one before but I just didn't have time for it so my participation was sadly lacking. I like the idea though so maybe when the kids are older.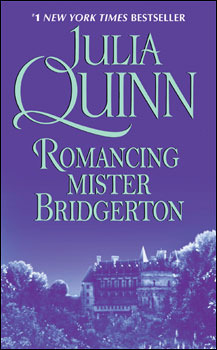 I have no time to reread books but I couldn't resist picking up this one. I blame Quinn over at
Quinn's Book Nook
because her fabulous Historical Romance 101 feature has featured this book. I loved this book when it came out but haven't read it much since then.
The Beginning
:
"On the sixth day of April, in the year 1812 - precisely two days before her sixteenth birthday - Penelope Featherington fell in love"
My thoughts:
I'm glad this is a prologue and not the beginning of the book. 15 is a bit to young for a heroine! The book actually takes place much later when Penelope is in her 20s.
The 56:
"If he'd said the same to her just two days earlier, she would have laughed at his joke and let him be the witty and charming one. But she must have heard Lady Danbury's voice at the back of her head again, because she suddenly decided she didn't want to be the same old Penelope Featherington.
She decided to join the fun"
My thoughts:
I love this as we're starting to see Penelope put aside her fears and insecurities and start to come into her own. After 3 books of seeing her on the sides of ballrooms and ridiculed by her awful mother it's nice to see her come into her own.
So what do you think? Keep reading? And are you seized with the need to reread a book every once in awhile?