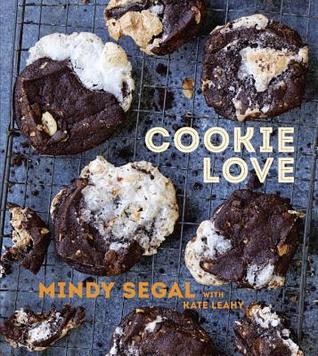 Cookie Love: More Than 60 Recipes and Techniques for Turning the Ordinary Into the Extraordinary by Mindy Segal with Kate Leahy
I've been in a baking book kind of mood lately and this book specializing in cookie and cookie techniques from James Beard nominee Mindy Segal was impossible to resist. The book is well photographed and will make you want to immediately run out to your local bakery followed by a trip to the grocery store to stock up on whatever ingredients you're missing. For the most part that wouldn't be too many. I could make most of these recipes from my pantry though I was short on butterscotch chips and chocolate discs. They also frequently call for both kosher salt and sea salt flakes and I ended up just using the sea salt flakes that I normally use for baking.
It took awhile to decide which cookies to start with. There's "Any Which Way But You Will Never Lose" Snickerdoodles, Classic Chocolate Chip Cookies (which used the chocolate discs - cue mouth watering), Ginger Sorghum Cookies, Peanut Butter Peanut Brittle Cookies, and 2 different variations of shortbread with different variations of each one, as well as countless others. After much flipping back and forth I went with Brownie Krinkles - a little more interesting than the regular chocolate chip but not too exotic as to scare my rather wimpy family.
4 ounces unsweetened chocolate, chopped
4 extra-large eggs, at room temperature (
I just used large because that's what I had
)
1 teaspoon vanilla extract
1 3/4 cups unbleached all-purpose flour
1/4 cup Dutch-processed cocoa powder
1 1/2 teaspoons baking powder
1 teaspoon kosher salt
1 teaspoon sea salt flakes (
I used 2 teaspoons flakes and left out the kosher
)
1/2 cup canola or sunflower oil
(I used canola
)
1 3/4 cup can sugar
For coating:
1 cup confectioner's sugar, sifted
In a heatproof bowl set over (but not touching) barely simmering water in a pot melt the chocolate, stirring occasionally with a rubber spatula. Keep warm.
Crack the eggs into a bowl and add the vanilla.
In a bowl, whisk together the flour, cocoa, baking powder, and salts.
In the bowl of a stand mixer fitted with the paddle attachment, mix the oil and sugar on low speed for 1 minute. Add the melted chocolate and mix to combine approximately 30 seconds. (
I don't have a stand mixer so just used a good sized mixing bowl and a spatula and had no problems
)
Scrape the sides and bottom of the bowl with a rubber spatula. On medium speed add the eggs and vanilla, one egg at a time, mixing briefly to incorporate before adding the next, approximately 5 seconds for each egg. Scrape the sides and bottom of the bowl with a rubber spatula to bring the batter together. Mix on medium speed for 30 to to 30 seconds to make nearly homogeneous. (
Still just used bowl and spatula. Worked beautifully
).
Add the dry ingredients all at once and mix until the dough comes together but still looks shaggy, approximately 30 seconds. Do not overmix. Remove the bowl from the stand mixer. With a plastic bench scraper, bring the dough completely together by hand.
Cover the bowl with plastic wrap and refrigerate until the dough is firm, at least 30 minutes or overnight. (
I went with overnight
)
Heat the oven to 350F and line a couple of half sheet pans with parchment paper.
Put the confectioner's sugar in a bowl, ensuring there is plenty of room in the bowl to roll the dough in the sugar. Using 1 3/4 ounce (1 1/2 tablespoons) ice cream scoop portion the dough into 12 mounds and roll into balls. Coat the balls completely and generously with confectioners' sugar. The dough should resemble snowballs.
Evenly space the balls on a prepared pan. Add a generous pinch or two more of confectioners/ sugar to the tops.
Bake for 8 minutes. Rotate the pan and bake for another 3 to 4 minutes (
I didn't do this because I forgot
). The cookies will form crinkles and will be set in the middle. Let the cookies cool on the pan for 1 to 2 minutes. Using a metal spatula, transfer the cookies to a wire rack to cool completely. Repeat with the remaining dough.
I had high hopes for these after seeing the cookie dough itself. It was glorious - glossy, smooth, and oh so chocolate-y and the cookies themselves did not disappoint. They were brownie like in texture with just the right amount of gooey-ness. They're on the soft side so may not be the best for packing and gift giving but for cookie trays they're pretty and just unique enough to be interesting.
Next up I'll be tacking the 2 different kinds of short breads! If you love to bake this is a great resource with interesting but not too crazy spins on traditional.
I'm linking up with Weekend Cooking hosted by
Beth Fish Reads