It's time for Top Ten Tuesday hosted by
The Broke and the Bookish
. Today's Top Ten Tuesday topic is the top ten books books on my spring TBR. There are so many books that I want to read right now that it's hard to just come up with 10. I have old review books, upcoming review books and TBR books and of course I want to read each and every one!
Upcoming Review Books:
1. French Coast by Anita Hughes (pub. 4/7/15) - The cover is just so pretty! I love the idea of the French Rivera with a dash of fashion and drama.


2. Still the One by Jill Shalvis (pub. 4/7/15) - I'm still mourning the end of the Lucky Harbor series but I'm looking forward to trying this one from her newest series. I have high hopes!


3. Be Afraid by Mary Burton (pub 4/28/15) - I think because I spent all December reading romances and the last couple of months knee deep in cozies I've been craving romantic suspense - heavy on the suspense. This look like it shout fit the bill!


4. Body in the Birches by Katherine Hall Page (pub 5/12/15) - I discovered Katherine Hall Page's Body in the series when I was in college and inhaled all that I could find. I'm looking forward to a revisit with Faith Fairchild and seeing what dead body she's stumbling over now. She has a serious case of Angela Lansbury-itis but they're fun to read!


Old Review Books:
1. Finding Hope by Stacy Finz (pub. 1/6/15) - I really enjoyed the previous book in the series and was excited to see the character that this book centered around.
2. Murder at the Book Group by Maggie King (12/30/14) - I've seen some mixed reviews for this one but I'm hoping I enjoy it. I love cozies that center around bookish things so this one is hard to resist!
3. His Kiss by Jill Shalvis (8/28/14) - I was so excited to get approved for the last trilogy in Shalvis's Lucky Harbor series but I still haven't even started it! I think I'm stalling because this is not a series I want to end!
Off my TBR Pile: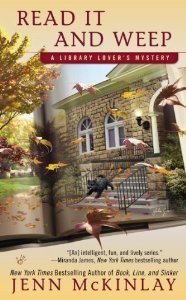 1. Read it and Weep by Jenn McKinlay - I love her library series and have gobbled up the first 3 but got distracted and haven't picked up this one yet.
2. Whiskey Beach by Nora Roberts - After reading Shadow Spell last week I'm anxious to get back to Nora Roberts. I've had this one sitting on my shelf since it first came out and am excited to get to it. The blurb sounds amazing!
3. Kitchen Counter Cooking School by Kathleen Flinn - I actually bought this one new because the recommendations were so glowing. That was at least 2 years ago. It's still unopened!
So those are the 10 I'm hoping to read this spring! What's on your wishlist?