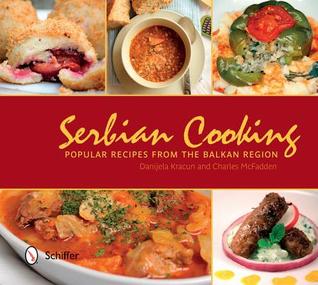 Serbian Cooking: Popular Recipes from the Balkan Region by Danijela Kracun and Charles McFadden
I always love to try foods from different places and so when I saw this cookbook on Serbian food I couldn't resist. It helped that I know virtually nothing about Serbian cuisine. This was an interesting little book that gave me a peek at Serbian food.
The book is broken into 3 chapters - appetizers, entrees (which also includes side dishes), and desserts. There are just over 50 recipes and include things like Cold Cuts Platter, Plum Dumplings, Chicken Paprikash with Peas, Lentil Soup, Baklava and Tulumbe (kind of a danish/pastry sounding dessert). The recipes are fairly simple. The ingredient list is fairly short and the instructions aren't overly complicated. The ingredients all seem to be things you could find at most good grocery stores and the only pre-made ingredient called for is phyllo dough.
While the baklava and vanilla pastry call to me I think the first thing I'm going to try is this delicious sounding vinegar-y bacon laden potato salad.
8 slices smoked bacon
2 pounds boiled potatoes with skin
6 scallions, sliced
1 sprig fresh rosemary, chopped
2 sprigs fresh thyme, chopped
4 sprigs of parsley, chopped
4 tablespoons vegetable oil
2 tablespoons apple cider vinegar
salt and fresh black pepper
Preheat oven to 375. Before you put the slices of bacon in the oven, place them on a rack that is put on a baking pan. That way you will get rid of the excess fat from the bacon and it will be crispy. It will take about 20 minutes to be done. When the bacon is cool, crumble it.
Peel the skin from the boiled potatoes and slice them.
Slice the scallions and chop the herbs.
Make the dressing by mixing the oil, vinegar, salt, fresh black pepper and herbs.
Mix everything together, except the bacon; then add the crumbled bacon on the top.
I think this will be heavenly with a crisply breaded chicken cutlet. The simplicity of the recipes make it easy to add a touch of interest into your weekday meals.
I'm linking up with Weekend Cooking hosted by
Beth Fish Reads