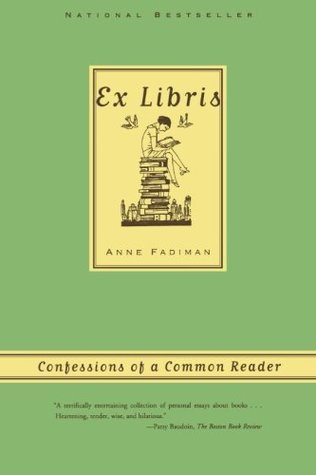 Ex Libris: Confessions of a Common Reader by Anne Fadiman
Rating: 3 Stars
Source: Gift
Description:
This is a collection of essays about all things bookish. Fadiman tackles everything from plagiarism, to how to get you children to read for pleasure and what kind of book owner are you.

Genre: Non-Fiction
Why I Picked This Book:
It's a book about books. How could I pass it up?
My Impression:
Pro:
The book is so pretty! I loved the cover and just the feel of the book. I really enjoyed the chapter on getting our children to read and on what kind of book owner are you. I tend to be protective of my books and while I have been known to reread a book until the spine gives out the idea of writing in the book makes me cringe! I really liked that it made me examine my reading habits and what books and reading mean to me. I found myself really thinking about what kinds of things I really enjoy reading about, how do I treat books and how do I categorize them.
Con:
I think I was expecting to feel like I was listening to a friend talk about books and how they read but I felt like I was listening to one of my college professors. While I enjoyed thinking about books and reading I didn't really connect with Fadiman and I think I would need that to really love this book. As well, the chapter that deals with plagiarism has so many footnotes that it's basically unreadable. I know that it was supposed too but I wish she had incorporated the source information another way.
Overall:
I really wanted to love this book and there was a lot I really liked. However, I think to really love this book I needed to find common ground with the author and I just never quite connected with her.
Would I Read More of this Series/Author?:
Probably not. While I did enjoy parts of this my lack of connection would probably keep me from reading more.
Would I Recommend this Book?:
I think any booklover would enjoy this. Even though I didn't love it did make me think about how I read.

Challenges Met? Alphabet Soup (E)