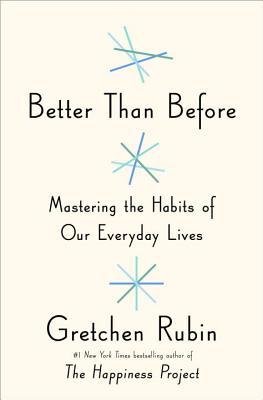 Better Than Before: Mastering the Habits of Our Everday Lives by Gretchen Rubin
Rating: 4 Stars
Source: NetGalley
Description:
Gretchen Rubin of The Happiness Project is now turning her eyes on the habit of habits. Why do some habits stick but others don't? And what can we do to make better mindful decisions regarding our own habit development.

Genre: Non-Fiction
Why I Picked This Book:
While I was underwhelmed with Rubin's 2nd book - Happiness at Home - I did get quite a bit out of her 1st book. I was curious to see what she had to say on the subject of habits.
My Impression:
As I would expect from Rubin, Better Than Before is meticulously researched and at times almost painfully so. It took me a chapter or two to get connected to the book because of all the studies and theories that she quoted. But once she started talking about the different types of motivators I was intrigued and became fascinated with the concept. She asked a lot of questions that really made me think about my own actions and what motivates me as well as questions that made me evaluate my priorities. I really liked that this wasn't a list of suggestions I should incorporate into my day but more of a framework to decide what I wanted to add to my day and than figure out the best way to go about it given my personality and motivations. She frequently ended the chapter with a list of questions so that the reader can better figure out how the chapter applies to them. This isn't an easy warm blanket and cup of tea read. This is a read you need to do with a notebook at hand so that you can take notes and make reminders.
Rubin doesn't come across as likable and with as many times as she mentions lecturing her friends for clutter or staying up to late I'm kind of relieved that I don't know her personally. However, this isn't a book where I had to like the narrator. I respect her opinion and her reasoning makes a lot of sense. I look forward to focusing on my own habit creation and becoming better than before!
My one concern is that through reading this book I realized that I'm what Rubin considers an Upholder which is her motivator as well. Since the methods that apply to Upholders apply directly to her it did seem to focus a bit more on that type. I do question if the book would be quite as useful to someone of the other motivator types.
Would I Read More of this Series/Author?:
Yes, I actually need to reread this one with my notebook and pen!
Would I Recommend this Book?:
Absolutely! If you have any interest in changing aspects of your behavior or understanding your motivations more I think this would be a valuable resource.
Challenges Met?