It's Top Ten Tuesday Time hosted by the amazing people over at
The Broke and the Bookish
. So I guess it's time for a confession. I don't go out and get a book I'm absolutely dying to read on the day it comes out. If there's the slightest whiff of cliffhanger I wait until I can get at least 2 at once. Obviously in a long running series it isn't possible to own all 15 books before I start reading (though I have tried) but I normally have at least 2 or 3. If it's a trilogy or quartet I generally wait until I have all 3 or 4. So for my Top Ten Anticipated Sequels I'm kind of drawing a blank. After lots of thinking I went with the books that made me go buy the sequel or the next one in the series while I was still reading the first and then the authors whose books I request without without even reading the summary.
1. Spackled and Spooked by Jennie Bentley - I love this series! It's not a flawless cozy series but I love the home renovation mixed with mystery and love reading what Avery is getting up too. There's always a little history connected to the mystery which is always a win for me.
2. Due or Die by Jenn McKinlay - McKinlay is one of my favorite cozy authors and the library series is my favorite of her series. She's a librarian! How can I not love that?
3. Rose in Bloom by Louisa May Alcott - So while this sequel was probably published 100 years before I was born it took forever for me to find it! I read Eight Cousins which was hands down my favorite Alcott book before the internet and the all reaching power of Amazon. Finding this book took years and tons of searching. I can still remember how excited I was when I finally had a copy in my hands!
4. Treasure on Lilac Lane by Donna Alward - About 2/3 into The House on Blackberry Hill I knew I had to spend more time in Jewell Cove and went out and found Lilac Lane. I'm really looking forward to reading it!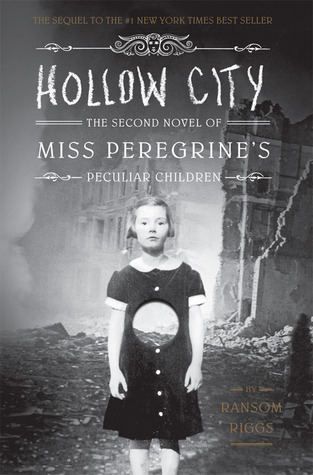 5. Hollow City by Ransom Riggs - Miss Peregrine was weird but kind of awesomely weird and I wanted to see where the story goes. Of course the sequel's been out for awhile and I still haven't read it but I'm looking forward to it.
6. Nora Roberts - While I haven't loved every book she's written and I'd like to forget about pretty much every book she wrote in the 80s all I need to see is Nora Roberts on the cover and the book gets bought.
7. Julia Quinn - Another romance author that I immediately buy. I don't even have to look at the blurb!
8. Tony Horwitz - I kind of want to be Tony Horwitz. He comes up with great topics - like traveling Captain Cook's route and then does them and writes fascinating books that are informative and entertaining. His book Baghdad Without a Map taught me more about the Middle East than anything else and made me laugh until I cried!
9. Laurie R. King - I love Her Holmes/Russell series and even though I'm a few books behind it's always a series I look forward to revisiting.
10. Deborah Crombie - Basically everything I said about King! Her Kincaid/James series is absolutely one of my favorite mystery series and her books are always on my autobuy list!