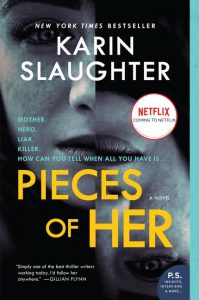 About Pieces of Her
• Paperback:
496 pages
• Publisher:
William Morrow Paperbacks; Reprint edition (May 21, 2019)
COMING TO NETFLIX!
Mother. Hero. Liar. Killer. How can you tell when all you have is...
PIECES OF HER
What if the person you thought you knew best turns out to be someone you never knew at all . . . ?
Andrea Cooper knows everything about her mother Laura. She's knows she's spent her whole life in the small beachside town of Gullaway Island; she knows she's never wanted anything more than to live a quiet life as a pillar of the community; she knows she's never kept a secret in her life. Because we all know our mothers, don't we? But all that changes when a Saturday afternoon trip to the mall explodes into violence and Andrea suddenly sees a completely different side to Laura. Because it turns out that before Laura was Laura, she was someone completely different. For nearly thirty years she's been hiding from her previous identity, lying low in the hope that no one will ever find her. But now she's been exposed, and nothing will ever be the same again. Twenty-four hours later Laura is in the hospital, shot by an intruder who's spent thirty years trying to track her down and discover what she knows. Andrea is on a desperate journey following the breadcrumbs of her mother's past. And if she can't uncover the secrets hidden there, there may be no future for either one of them. . . .

My Thoughts:

Karin Slaughter has been on my radar for years and years but for some reason I never got around to reading her until this book. The only reason I'm not kicking myself (besides my general lack of coordination) is because I now have a pretty big back list to read through. I've been a bit meh about reading lately but this book was a "maybe I can sneak in one more chapter" with a little bit of a "whoops I meant to only read a chapter and ended up reading a 100 pages" thrown in. There was a bit of dual timeline and and lots of fast moving twists and I absolutely flew through it. I didn't really care for Andy a lot of the time but I was just invested as she was to put all the pieces together. This is a bit darker than my usual read and while there is some violence it never felt gratuitous or overly gory. I thoroughly enjoyed this visit to the darker side of the mystery genre and will be looking for more of Slaughter's books on my next bookstore visit!

Rating: Very Good
Purchase Links
]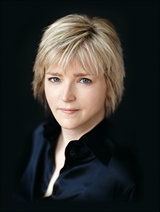 About Karin Slaughter
Karin Slaughter
is one of the world's most popular and acclaimed storytellers. Published in 120 countries with more than 35 million copies sold across the globe, her eighteen novels include the Grant County and Will Trent books, as well as the Edgar-nominated
Cop Town
and the instant
New York Times
bestselling novels
Pretty Girls
and
The Good Daughter
. Slaughter is the founder of the Save the Libraries project—a nonprofit organization established to support libraries and library programming. A native of Georgia, Karin Slaughter lives in Atlanta. Her standalone novels
The Good Daughter
and
Cop Town
are in development for film and television. Find out more about Karin at her
website
and connect with her on
Facebook
,
Twitter
, and
Instagram
.