It's Friday linkup time! I'm linking up with the Book Blogger Hop hosted by
Coffee Addicted Writer
, Book Beginnings of Fridays hosted by
Rose City Reader
, and the Friday 56 hosted by
Freda's Voice
.
This Week's Book Blogger Hop Question:
Name one book you've read in the past that still haunts you today?
My Answer:
The first 3 Patricia Cornwell books terrified me.
Postmorten
has me nervous every time I wake up in the middle of the night thinking I heard a sound. Thanks to
Body of Evidence
losing my luggage makes me panic and traveling as a couple never felt completely safe after
All That Remains.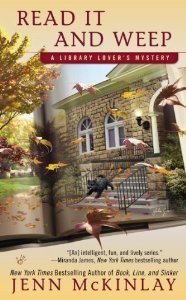 This week's book is
Read It and Weep
by Jenn McKinlay. This series is kind of my happy place of cozy mysteries. There's a library, there's a small town in Maine (has anyone noticed that Maine has a lot of mystery series set there? There's tons of cozy mystery series and that's not even counting Jessica Fletcher or Stephen King), there a murder, there's food, and I like the characters.
The Beginning:
"Of course you're all going to audition for the play," Violet La Rue said.
My Thoughts:
I know from the blurb on this one that the play is a major focus on the story. I have a feeling Lindsey, the main character, is getting talked into something she's really not sold on!
The 56:
She was always first on the list for the newest Debbie Macomber books, and she doted on Dylan, who was her only child.
My Thoughts:
Not the most exciting teaser but I absolutely love how characters are described by the books they check out!
So what is your happy place series?