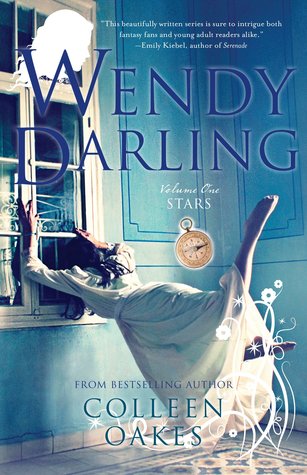 Wendy Darling by Colleen Oakes
Rating: N/A
Source: NetGalley
Description:
Wendy Darling has a perfectly agreeable life with her parents and brothers in wealthy London as well as a budding romance with Booth, the neighborhood bookseller's son. But while their parents are at a ball, the charmingly beautiful Peter Pan comes to the Darling children's nursery and - dazzled by the flying boy with godlike powers - they follow him out the window and straight on till morning, to Neverland, an intoxicating island of feral freedom.
As time passes in Neverland, Wendy realizes that this Lost Boy's paradise of turquoise seas, mermaids, and pirates holds terrible secrets rooted in blood and greed. As Peter's grasp on her heart tightens, she struggles to remember where she came from - and begins to suspect that this island of dreams and the boy who desires her - has potential to transform into an everlasting nightmare
(from Goodreads)

Genre: Fiction

Why I Picked This Book:
I adored Colleen Oakes' Queen of Hearts series so when I saw this new story by her I was so excited to see her new book - Wendy Darling. Peter Pan is one of my absolute favorite movies (I've yet to read the book but more on that later) and the cover is absolutely spectacular so given my previous positive experiences with Colleen's work I couldn't hit Request fast enough.
My Impression:
For years I wanted to love salmon (stay with me - this is going somewhere logical really!). It's the healthy eating golden child being low in the bad stuff and high in the good stuff. Plus, so many people seem so devoted that I really felt I was missing something. I'm not a big fish person and I'd been convinced that what I had tried was maybe just not well prepared but once I had some good salmon angels would sing and I would fall in love. Then one day I was at a party and everyone was raving about how excellent the smoked salmon was and I thought "Ah ha! I know this is good so I will try it and love it." So I did and then I didn't. At all. Turns out salmon is just not for me. This was apparently very good smoked salmon and lots of people really enjoyed it but I was stuck trying to figure out to dispose of my portion discreetly.
That's kind of how this book was. There's nothing wrong with it. In fact there's quite a lot right with it. As I've come to expect from Oakes the writing is beautiful. It's incredibly descriptive and dripping with atmosphere without being over word-y. The characters are wonderfully and immediately well fleshed out that I could picture them immediately in my head.
BUT, it's dark and the characters are flawed and much more dimensional than the sweet little Wendy and the adventurous John and Michael of Disney film fame. And for me I was back at the party trying to get rid of the salmon. It just didn't work for me. I want Wendy to be sweet with just a little bit of spunk and I want all the Darling children to get along. I don't want there to be hidden secrets and jealousy and some pretty vicious sibling rivalry. And this book is chock full of that plus some. I've heard that the original book is a bit darker and I think that's one of the reasons I've avoided it. It's also a reason why I probably should've avoided this one. However, since my reaction was very personal and really had nothing to do with the merit of the book itself I'm not going to rate this one. I did learn a pretty useful life lesson - if you really love a fairy tale a certain way skip the retelling.
Would I Read More of this Series/Author?:
While I won't read more of this series I will definitely be looking for more books from Colleen Oakes.
Would I Recommend this Book?:
I would definitely recommend Colleen Oakes as an author. I've really enjoyed other books by her even though this one didn't work for me.