It's Friday linkup time! I'm linking up with the Book Blogger Hop hosted by
Coffee Addicted Writer
, Book Beginnings of Fridays hosted by
Rose City Reader
, and the Friday 56 hosted by
Freda's Voice
.
The Week's Book Blogger Hop Question:
If you could give away any books instead of Candy to Trick or Treaters what would the titles be?
My Answer:
Hmmm... This is a tough one. I think I'd give away books from the Magic Treehouse series. My older kids loved them when they were in elementary school and they were the first series that got two of mine reading for pleasure. Plus they have some scarier titles that would be good for Halloween.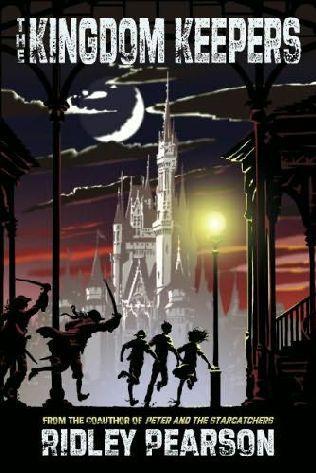 I came across this week's book the other day while looking for books for the Tornado at the library. We've started reading chapter books at bedtime. Right now he's enjoying Geronimo Stilton, The Magic Tree House Books, and the Mercy Watson books (he's 5). I have a feeling that The Kingdom Keepers: Disney After Dark by Ridley Pearson might be too intense for him for a few years but I'm really looking forward to it. The idea of Walt Disney World really coming alive is just a fascinating concept!
The Beginning:
He found himself standing next to the flagpole in Town Square, in the heart of the Magic Kingdom. In his pajamas.
My Thoughts:
I love Disney World so the beginning makes me happy though I do wonder why he's wearing his pajamas!
The 56:
"I told you:things are happening in the park. We - you and your friends, actually - need to stop them."
My Thoughts
:
I haven't gotten to this part of the book so I have no idea what's going on but it sounds like an adventure. I'm kind of sad that my older kids aren't younger because I think Emma and Eleanor would have loved these books. It would be fun reading before a trip to Disney!
So what do you think? Keep reading?