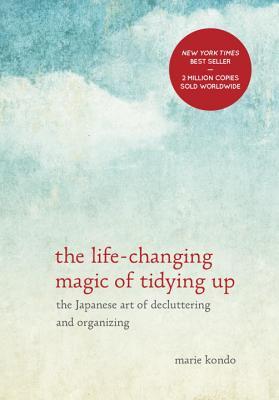 The Life Changing Magic of Tidying Up: The Japanese Art of Decluttering and Organizing by Marie Kondo (Amazon link)
Rating: 2 Stars
Source: Gift
Description:
This guide to decluttering your home from Japanese cleaning consultant Marie Kondo takes readers step-by-step through her revolutionary KonMari method for simplifying, organizing and storing.
(from Goodreads)

Genre: Nonfiction
Why I Picked This Book:
Who doesn't want to be tidier? Plus I kept seeing the book everywhere so I couldn't resist.
My Impression:
I felt like there was quite a bit lost in translation and definitely a cultural gap with this one. On a large scale I'm not sure how the KonMari method would work in American homes where the layouts and purpose is so different from Japanese homes. A lot of the more general home organizing advice I just didn't find applicable. The chapter on books just hurt. I'm not getting rid of all the books I haven't read or hiding my bookshelves in a closest.
Not to say this book was a waste of time. I did get inspired to really clean out my closet and drawers and I'm intrigued by the idea of vertical folding. I also came to a realization that I should just toss all those accumulating magazines that are taking up space and that I'm honestly never going to read. But there's a lot of repetition and the language is stilted and a little disjointed (I'm guessing this is from the translation). While there was some interesting information I think the book could've been consolidated into a magazine article with much the same results.
Would I Read More of this Series/Author?:
Probably not.
Would I Recommend this Book?:
Eh - it was okay and it's a short read so if you really need inspiration for clearing out this isn't a bad read. I'd get it from the library or borrow a copy instead of buying it though.