Today's topic for Top Ten Tuesday hosted by
The Broke and the Bookish
is a freebie so I decided to visit my dusty shelves and list the top ten books that catch my eye. My bookshelves are overflowing but regularly get ignored in favor of new shiny releases or ARCs. After my recent visit I'm definitely going to have to start getting more use out of them. It was hard to narrow it down to 10!
1.
All Facts Considered: The Essential Library of Inessential Knowledge by Kee Malesky
- I first heard about this book in an interview on NPR. Malesky is a librarian at NPR and is in charge of answering pretty much every question that comes up.
2.
The Widows of Braxton County by Jess McConkey
- City dweller Kate is ready to put down roots when she marries Joe Krause and moves to a small farming town in Iowa. She's not expecting just how hard it will be - between the work, the mother-in-law she was unaware that she would be living with and long hidden secrets.
3.
The 8:55 to Baghdad by Andrew Eames
- When recently divorced Agatha Christie needed a vacation she found herself traveling on the Orient Express. In this look at the writing of one of her most famous books Eames merges biography with travel adventure!
4.
Hats and Eyeglasses by Martha Frankel
- Frankel's memoir about growing up in a family of gamblers. It looks both funny and heartwarming.
5.
Can Any Mother Help Me? by Jenna Bailey
- In 1935 a young mother wrote a letter to a magazine expressing frustration and asking for help. Dozens of women wrote back. This is a collection of their letters and personal stories.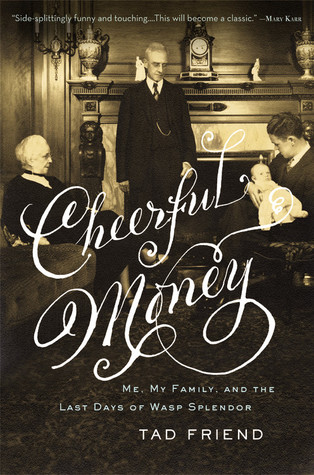 6.
Cheerful Money by Tad Friend
- A look into the family secrets of the author's illustrious family. I love family secrets!
7.
Cloche and Dagger by Jenn McKinlay
- This is the first in the newest series from McKinlay. Florida resident Scarlett Parker leaves her life behind her to move to London and work in a hatshop with her cousin, Vivian Tremont. The future looks bright on arrival except that Vivian seems to be missing and a client has been murdered and wearing a custom made cloche hat.
8.
Mind Over Murder by Allison Kinglsey
- Ana Jordan has made no secret of her feelings about The Raven's Nest Bookstore so when she's found murdered by an Edgar Allan Poe bust it's up to cousins and bookstore owners Clara and Stephanie Quinn to find out what happened.
9.
When She Was Wicked by Anne Barton
- Dressmaker Annabelle Honeycote overhears the steamiest of secrets and has no problem using them to her own advantage as long as she follows her own rules of course. Until she runs into Owen Shelbourne, Duke of Huntford.
10.
The Murders of Mrs. Austin and Mrs. Beal by Jill McGown
- Two murders and two very complicated victims. It's up to newly promoted DI Judy Hill and DCI Lloyd to sort it all out.
What fascinating books are collecting dust on your shelves?