It's Friday Linkup time! I'm linking up with Book Blogger Hop hosted by
Coffee Addicted Writer
, Book Beginnings on Fridays hosted by
Rose City Reader
, and the Friday 56 hosted by
Freda's Voice
.
This Week's Blogger Hop Question:
Do you feel comfortable enough approaching a stranger when you see he/she is reading a book to ask what they are reading?
My Answer:
I probably wouldn't go up and ask a total stranger what they're reading but if they're reading a print book I definitely try and check out the cover and sometimes not so subtly!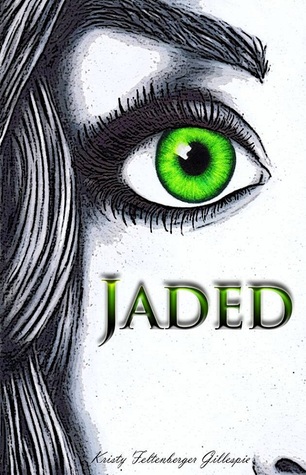 This week's book is Jaded by Kristy Feltenberger Gillespie. This was kindly sent by the author along with a short story collection last year. I really enjoyed her short story collection - In Death - and I though this YA SciFi would be perfect after all the holiday romances I've been reading lately.
The Beginning:
"My heart is frost bitten. The ache in my chest is so pronounced it hurts to breathe."
My thoughts:
I like the imagery that Gillespie conjures up with these words. The setting just seems so cold and bleak and I know just how she feels.
The 56 (well kind of. Taken from 11% which is approximately page 56);
"And of course the guards are still here. Some will remain at Samsara and others will accompany Rust and Saffron at the cemetery."
My thoughts:
I'm still seeing a very cold and bleak world here. I'm wondering why there are guards and why it's so accepted that they're there.
So what do you think? Keep reading?