It's Friday linkup time! I'm linking up with Book Blogger Hop hosted by
Coffee Addicted Writer
, Book Beginnings on Fridays hosted by
Rose City Reader
, and The Friday 56 hosted by
The Friday 56
.
This Week's Blogger Hop Question
:
How do you feel when someone continues to put the exact same comment on your blog each week?
My Answer:
This hasn't really happened to me but I don't think it'd bother me too much. I probably wouldn't spend much time on my response though.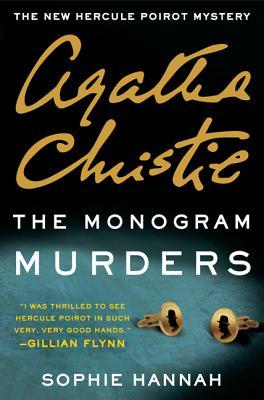 This week's book is The Monogram Murders featuring Agatha Christie's Hercule Poirot by Sophie Hannah. So far I'm enjoying it as long as I'm not comparing it to Christie.
The Beginning:
""All's I'm saying, is I don't like her," the waitress with the flyaway hair whispered. It was a loud whisper, easily overheard by the solitary customer in Pleasant's Coffee House"
My thoughts:
I'm intrigued by who "her" is and what's so unlikable!
The 56
"Did the killer arrive at the Bloxham with a glass of Harvey's Bristol Cream in his hand, as well as a pocket full of monogrammed cufflinks and poison? It seemed far-fetched"
My thoughts:
I love the sarcastic tone of this line. It definitely sounds a bit far-fetched.
So what do you think? Keep reading?