It's Friday which means I'm joining up with Book Blogger Hop hosted by
Coffee Addicted Writer
, Book Beginnings on Fridays hosted by
Rose City Reader
, and the Friday 56 hosted by
Freda's Voice
.
This Week's Question
:
How will reading be in 100 years time? Will there be printed books? How about ereaders? What might they look like?
My Answer:
I have a hard time believing that books will go away completely. They may become more like artwork versus just a functional item but there are sensory advantages with books that can't be replicated. As for ereaders I think they'll continue to go the way they're going now - thinner, lighter, better memory, better battery life. I'm hoping in 100 years they'll have figured out a better way work with illustrated books!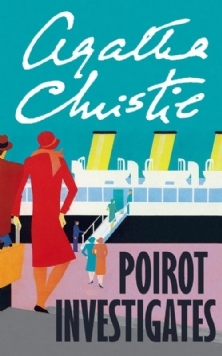 This week's book:
I'd gotten distracted from reading Agatha Christie by a few library books but it feels great to be back to Poirot and Hastings with this 3rd book in the Poirot series - Poirot Investigates. This is a short story collection that contains 14 of Poirot's most interesting cases. From what I can tell this was originally published all together instead of short stories published separately in magazines or newspapers and then put together.
The Beginning from "The Adventure of "The Western Star"":
"I was standing at the window of Poirot's rooms looking idly on the street below.
"That's queer," I ejaculated suddenly beneath my breath."
The 56 from page 56 of my paperback from the story "The Adventure of the Cheap Flat":
"To me, the waiting appeared endless. I was terrified of going to sleep. Just when it seemed to me that I had been there about eight hours - and had, as I found out afterwards, in reality been exactly one hour and twenty minutes - a faint scratching sound came to my ears."
So would you keep reading? If you're an Agatha beginner this kind of short story collection is a great way to get to know the characters without getting Poirot-ed out.