Treasure on Lilac Lane by Donna Alward
This is a bit of a second chance romance. Years ago there was an "almost" moment between childhood friends Jess and Rick. Then Rick left for the Marines and Jess went on with her life. Now they're both back in Jewell Cove with a lot more baggage than the young hopefuls they were before.
I wasn't sure if I was going to like this one. I mean I was excited to visit Jewell Cove again and I liked seeing the couple from the previous book (The House on Blackberry Hill) and Rick just seemed so sad but such a good guy underneath. The problem was Jess. She was SO judgmental. I mean alcoholism and depression are not things to be treated lightly but she seemed just so angry at Rick that it was hard to like her in the beginning. That is until I heard her back story and until she let herself get to know Rick just a little bit more and started to relax. Then I fell in love with the couple and the town all over again. Rick has had so many hard knocks and yet is still stumbling to his feet and watching Jess be there for him and then he be there for her was just really lovely. This is a sweet and poignant romance with a couple I really found myself liking and rooting for.
Rating: Very Good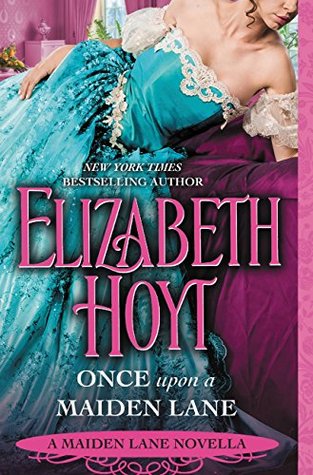 Once Upon a Maiden Lane by Elizabeth Hoyt
Mary Whitsun grew up in an orphanage and knew nothing about her past. She's a hard worker, full of common sense, and is very happy as a nursemaid for a patron of the orphanage she was raised. That is until a chance encounter with Henry Collins, Viscount Blackwell throws everything she knows about herself and everything she's ever wanted into question.
This is my second book by Elizabeth Hoyt and I am in love! This was light and sweet with a good dose of heart. I love a mistaken identity and I love even more a mystery about an identity. I also loved the characters - especially Mary. She's so self-aware and so practical but it was sweet how happy she was to have potentially found her family. Henry is intelligent and a good match for Mary. I loved watching them banter and get to know each other.
This is a novella so the character development is on the light side and the romance develops very quickly. This was a thoroughly enjoyable read that I devoured in one sitting. I'm glad I have so many more Maiden Lane books to read!
Rating: Very Good
If you're looking for a feel good romance that isn't just a fun romp than I think either of these would be great choices!