It's Friday linkup time! I'm linking up with the Book Blogger Hop hosted by
Coffee Addicted Writer
, Book Beginnings of Fridays hosted by
Rose City Reader
, and the Friday 56 hosted by
Freda's Voice
This Week's Book Blogger Hop Question:
When reading a book do you use a bookmark to mark your place in the book, or do you just fold over the top corner of the page?
My Answer:
I'm a bookmark person. I have a number of bookmarks and have been known to use index cards when in a pinch. However, my favorite bookmark is one Emma gave me for Christmas when she was in kindergarten (she's in her 3rd year in college now). I think I've used it for almost every book I've read in the last 15 years. The Tornado made me one a few months ago and that's also gone into heavy rotation. If you're wondering clear packing tape stuck on each side with a steady hand and trimmed up a bit works as a pretty good lamination.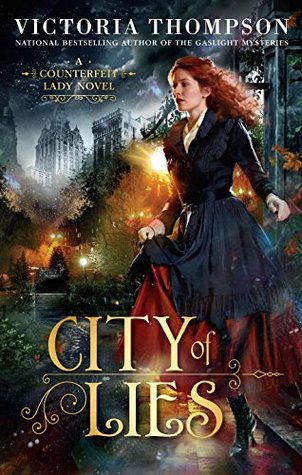 I've been wanting to read Victoria Thompson's books for YEARS. We're not going to even discuss how many of her books are sitting on my shelf unread. So when I was offered the first book in her new series,
City of Lies
, I just knew I couldn't resist. I'm not all that far in but so far I'm really enjoying it. Now to catch up on her earlier books!
The Beginning:
Jake looked much too smug.
Elizabeth's hand itched to smack the smirk off his face, but well-bred young ladies didn't go around smacking people in hotel dining rooms.
My Thoughts:
I can't help but like Elizabeth in this beginning! I think we've all lived some version of that struggle!
The 56:
Finally, a young woman in a wrinkled shirtwaist peered at him with some alarm through her spectacles. "Who are you?"
My Thoughts:
I think I'd be rather alarmed to see a strange man standing in the hall too so I can understand her alarm!
So what do you think? Keep reading? How do you mark your place in a book?