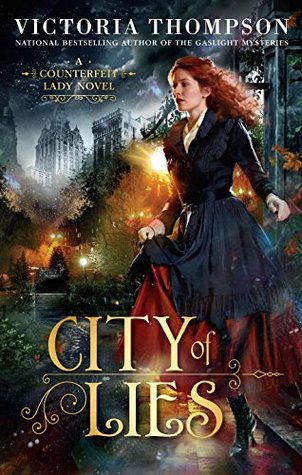 City of Lies (Counterfeit Lady #1) by Victoria Thompson
Rating: Very Good
Source: Publisher

Description:
Every woman plays a part—but some are more dangerous than others…
Like most women, Elizabeth Miles assumes many roles; unlike most, hers have made her a woman on the run. Living on the edge of society, Elizabeth uses her guile to relieve so-called respectable men of their ill-gotten gains. But brutal and greedy entrepreneur Oscar Thornton is out for blood. He's lost a great deal of money and is not going to forgive a woman for outwitting him. With his thugs hot on her trail, Elizabeth seizes the moment to blend in with a group of women who have an agenda of their own.
She never expects to like or understand these privileged women, but she soon comes to respect their intentions, forming an unlikely bond with the wealthy matriarch of the group whose son Gabriel is the rarest of species—an honest man in a dishonest world. She knows she's playing a risky game, and her deception could be revealed at any moment, possibly even by sharp-eyed Gabriel. Nor has she been forgotten by Thornton, who's biding his time within this gilded orbit, waiting to strike. Elizabeth must draw on her wits and every last ounce of courage she possesses to keep her new life from being cut short by this vicious shadow from her past.

Genre: Fiction - Historical

Why I Picked This Book:
I've been wanting to read Thompson's books forever and when I was offered this first book in a new series I couldn't resist. Plus, I love the 1920s time period.

My Impression:
If you're in the mood for a straight up historical mystery than put this book down and walk away. This is most definitely not the book you're looking for. However, if you're in the mood for a fast paced heist style book with a helping of history and a twist of romance this is the book for you.
I had read a few reviews of this one before I picked it up and knew not to expect a mystery which I think really helped my enjoyment. And my enjoyment was high. I really liked Elizabeth. She's smart, quick on her feet, and good with a con. However, she can't help but feel affection and loyalty to her new group of friends and struggles with those very new emotions. I liked that she doesn't immediately go on the straight an narrow and her ways of solving some of her problems (especially where her luggage is) had me laughing.
As a villain I'm not sure they get more villain-y than Oscar Thornton but it wasn't overdone or comical. He was a man who always got what he wanted and had never felt the need to check his impulses which made him very dangerous. I loved Mrs. Bates and Anna though I wanted to know more about Anna. There were a few hints about her that were never fully explained and I'm hoping that will be explored in a future book. The male characters - Gideon and David - were somewhat one dimensional (especially David) but I did enjoy the contrast between them. My absolute favorite part of this book was the history on the suffrage movement. Like everyone else I've done the basic reading is school and may have read a little bit of Susan B. Anthony but this really made everything come alive. I could feel the determination of the women and what they were up against as well as the horrific conditions in the work house where they were sentenced. I enjoyed Thompson's note at the end detailing her inspirations for this part and it has made me want to do more reading on the subject.
My only issue with this novel, and it is very very minor, is that Elizabeth is just a little bit too perfect. Everyone who meets her either falls in love with her or takes her immediately under her wing. It didn't affect my enjoyment of the read but there were a few "really?" moments when yet another character is professing their love.
This is a fun, fast paced read with likable characters. It does an amazing job of bringing an incredibly important moment of history vividly to life. I'm hoping to see more of these characters. I have a feeling they have lots of stories to tell.

Would I Read More of this Series/Author?
Absolutely! I will be looking for more books featuring Elizabeth and I already have several books from the authors "Gaslight" series on my shelf.

Would I Recommend this Book?
I absolutely would. If you enjoy historical fiction - mystery lover or not- I think you'd enjoy this book.