This week's Top Ten Tuesday topic from
The Broke and the Bookish
is Ten Books You're Thankful For. I tried to pick 10 books that changed my reading experience in some way!
1.
Baby's Birthday by Patricia Mowers and Illustrated by Eloise Wilkins
- I think this was my really my first favorite book. I adored it and requested it to be read to me for YEARS. My parents haven't spoken to each other in probably a decade but the instant the title of this book is mentioned to either of them they immediately say in a very sing song voice "Wake up baby! It's your special day!"
2.
The Secret of the Old Clock by Carolyn Keene
- Nancy Drew introduced me both to mysteries and really big series and I'm still a fan of both!
3.
The Secret Adversaries by Agatha Christie
- When I first discovered Agatha Christie I was a bit meh about her. Some of her mysteries seemed a bit dry. But then I discovered this first book in the Tommy and Tuppence series and fell completely in love. This series is probably my least favorite now but it was what really pulled me to Agatha Christie.
4.
Devil's Bride by Stephanie Laurens
- I was probably in my early 20s when I started reading romances. I had resisted the genre for years but when I started reading this one I was completely pulled in and became hooked on the genre. I reread it a few years ago and wasn't really impressed with it but at the time I was enthralled.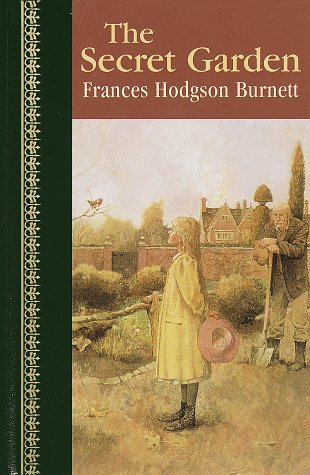 5.
Simply Irresistible by Jill Shalvis
- While I had discovered the romance genre through the above book I was almost exclusively a historical romance reader. I read Nora Roberts contemporaries but that was about it. Shalvis was the first small town romance authors I tried and I've been hooked ever since!
6.
The Secret Garden by Frances Hodgson Burnett
- I had only read Middle Grade fiction that my children were reading for years but when I first got my Kindle I was browsing the free books and came across this childhood favorite. I didn't go in with high hopes as not all books are equally enjoyable for adults as they are to children but I ended up loving it. It was a big push to get me back to reading Middle Grade.
7.
The Shell Seekers by Rosamunde Pilcher
- I adored this book. I read it so many times that my original copy fell apart and then my replacement copy fell apart too. I loved Penelope and life on the homefront during WWII and the way the story was told in almost a series of vignettes. This book doesn't have quite the same effect on me that it used to but I love it still.
8.
The Hiding Place by Corrie Ten Boom
- A friend of mine handed me this book and said I had to read it. I let it sit on the shelf for ages because it didn't really appeal to me but when I started I found it an incredible story and heartbreakingly sad but so full of hope as well. It's a good book to read when I need a perspective tune up.
9.
84 Charing Cross Road by Helene Hanff
- I think this was the first book that got me really thinking of the books themselves and not just the stories. I would love to see some of the editions she talks about.
10.
Don't Let the Pigeon Stay Up Late by Mo Willems
- I'm thankful to this book because of the Tornado. He had no trouble learning to read but his interest just wasn't very high. That is until he discovered Mo Willems. His favorite is really the Gerald and Piggie books but this was the first Willems book we checked out of the library so I'll always have a bit of a soft spot for it.
What books are you thankful for?