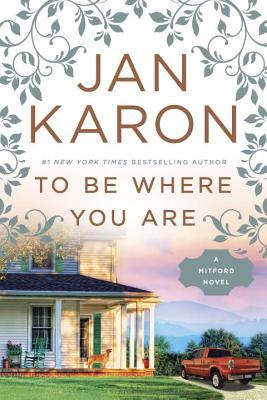 To Be Where You Are (A Mitford Novel) by Jan Karon (Amazon)
Rating: Good
Source: Publisher

Description:
After twelve years of wrestling with the conflicts of retirement, Father Tim Kavanagh realizes he doesn't need a steady job to prove himself. Then he's given one--but what, exactly, does it prove? Meanwhile, newly married Dooley and Lace face a crisis that empties their bank account and turns their household upside down. Is the honeymoon over? Is this where real life begins? As the Mitford Muse editor stumbles on a quick fix for marital woes and the town grocer falls in love for the first time, Father Tim and Cynthia receive an invitation to yet another family wedding.
But perhaps the bottom line is this: While a star blinks out in the Mitford firmament, another soon blinks on at Meadowgate, and four-year-old Jack Tyler looks forward to the biggest day of his life--for now and forever.
Jan Karon weaves together the everyday lives of two families, and the cast of characters that readers around the world now love like kin.
Genre: Fiction

Why I Picked This Book:
I've heard of Karon's beloved Mitford series for years so I couldn't pass up the chance to read the newest release.

My Impression:
After reading this one I completely understand why this series is so loved. These characters are REAL. They're not perfect but they're not over-flawed, they're just your regular everyday people leading their regular everyday lives and trying to do their best and I couldn't helpu but fall a bit in love with them and the town of Mitford as a whole.
I think my favorite story line involved Dooley, Lace, and Jack Tyler. Jack Tyler is such a sweet heart though he didn't ring quite true as a 4 year old. Their struggles take the whole "when it rains it pours" expressions to new levels - some in a literal sense - and it felt so authentic. I enjoyed Father Tim and Cynthia's story line as well though they didn't have very much page time. Avis, who runs The Local, started out as kind of grumpy but it didn't take me to long to develop a soft spot for him.
This book is just nice. The characters are nice, the town is nice and it was a thoroughly nice experience reading it! While it did take me some time to get everyone straight and Karon confused me occasionally by jumping focus without making it clear just who exactly we were focusing on. This was probably my only issue with coming into the series so late. However, this in no way affected my enjoyment of the read. I completely understand just why this series is so popular and I"m looking forward to visiting Mitford again soon.

Would I Read More of this Series/Author?
I would! This is a great hot tea and a warm blanket kind of book when you're wanting something calm and sweet without being sappy and a bit of humor.

Would I Recommend this Book?
I would. This isn't a quick or action paced read but it's calming and nice and like visiting with old friends. If you're in the mood for that than I think you'd enjoy this book.