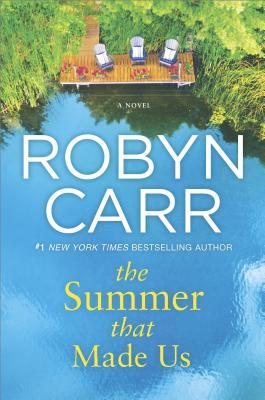 The Summer that Made Us by Robyn Carr
Rating: Loved it
Source: Little Bird Publicity

Description:
That was then
... For the Hempsteads, two sisters who married two brothers and had three daughters each, summers were idyllic. The women would escape the city the moment school was out to gather at the family house on Lake Waseka. The lake was a magical place, a haven where they were happy and carefree. All of their problems drifted away as the days passed in sun-dappled contentment. Until the summer that changed everything.
This is now.
.. After an accidental drowning turned the lake house into a site of tragedy and grief, it was closed up. For good. Torn apart, none of the Hempstead women speak of what happened that summer, and relationships between them are uneasy at best to hurtful at worst. But in the face of new challenges, one woman is determined to draw her family together again, and the only way that can happen is to return to the lake and face the truth.

Genre: Fiction

Why I Picked This Book:
It's by Robyn Carr. How could I turn that down?

My Impression:
Sometimes a book just clicks with you and ends up being exactly what you wanted in that moment. This was one of those books for me. For one thing this checked a lot of boxes for me. I love ensemble casts, I love books that involve elements of the past, and I love characters that are trying to find something in their environment and within themselves and this one had all three. The characters that this book really focuses on are Meg, Charley, and Krista. Both Charley and Krista are really trying hard to help Meg who has stage 4 cancer and all three are trying to figure out just what went wrong that summer. There was more than just the tragic drowning of the youngest cousin.
I typically avoid books that involve the death of a child but this one is handled in such a way that while it was sad and tragic it didn't wallow in the gut wrenching sadness of it all. The focus was more on how that event had changed everything and was there more to it. While I wouldn't classify this as a mystery there is some suspense as the 3 cousins probe their memories and try to reconnect and figure out how everything had gone to pieces the way it did.
There are lots of visitors to the lake house this summer. Family members, spouses, and a character or two from the past. They add a complexity to the book as each character means forging a new connection and making peace with the old. There's a lot of sadness but it never felt overwrought or manipulative and there is a lot of joy and healing that balanced that out for me. Overall, this is comfort reading at its finest. There's heart, there's love, there's more than a little bit of drama and there are characters that I will miss now that I've put the book down.

Would I Read More of this Series/Author?
Absolutely! I typically enjoy Carr's books and this was my favorite one yet.

Would I Recommend this Book?
Yes! Even if you aren't typically a romance reader if you enjoy books involving family relationships and connections I think you'd enjoy this one.