It's Friday linkup time! I'm linking up with the Book Blogger Hop hosted by
Coffee Addicted Writer
, Book Beginnings of Fridays hosted by
Rose City Reader
, and the Friday 56 hosted by
Freda's Voice
This Week's Book Blogger Hop Question:
In regards to banned book week, what are your favorite books that have been banned or challenged?
My Answer:
Going off
this list
of the most commonly challenged books in the U.S. I think 2 of my favorites are The Great Gatsby by F.Scott Fitzgerald and Wrinkle in Time Madeline L'Engle.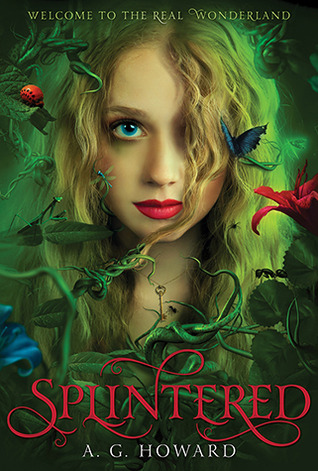 This week's book is a little different from my usual reads in that I don't typically read fantasy or YA and
Splintered by A.G. Howard
is both. I am, however, really enjoying it and all it's wonderful terrifying weirdness!
The Beginning:
I've been collecting bugs since I was ten; it's the only way I can stop their whispers.
My Thoughts:
This is a pretty good indication that our main character is not your run of the mill average high school student!
The 56:
"She lost it," I blurt. "Attacked me."
My Thoughts:
And another indication that all is not well - especially since the main character is talking about her mother in this one.
So what do you think? Keep reading? What banned or challenged book is your favorite?